Jerry Hall: Watching the Stones Roll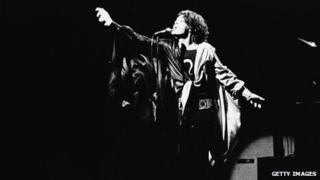 The Rolling Stones played their ever first gig on a Thursday night, 12 July, 1962, in London's Marquee Club.
Since then they have become one of the world's most popular and revered rock bands, whose A Bigger Bang Tour (2005-2007) earned $558m (£360m).
Actress and model Jerry Hall was with lead singer Mick Jagger for many of the band's tours.
The couple started dating in 1977 and were married from 1990 to 1999.
As she prepares to present a Radio 2 documentary on the band's live legacy, Hall recalls what it was like to watch the Stones on Stage.
Fifty years ago, The Marquee was one of London's most popular and influential Jazz clubs.
The proprietors, Harold Pendleton and Chris Barber, had for years been promoting tours by great American jazz players and, in the late 1950s, began bringing to Britain exponents of the Blues.
These shows by greats like Muddy Waters, John Lee Hooker and Sonny Boy Williamson began attracting talented new musicians keen to immerse themselves in this exciting new scene.
Thursday nights at The Marquee regularly featured Alexis Korner's Blues Incorporated - a collective of some of the most exciting exponents of early English blues. But on 12 July, 1962, the group was booked to perform on the BBC's Jazz Club radio broadcast, which meant a replacement band was needed.
Several musicians who had performed with Alexis decided to form a band to fill the gap - and on Wednesday 11 July, The Jazz News ran a small story that read: "Mick Jagger, R&B vocalist, is taking an R&B group in to the Marquee tomorrow night while Blues Incorporated do their Jazz Club radio broadcast gig.
"Called 'The Rolling Stones' the line-up is Mick Jagger (vocals), Keith Richards and Elmo Lewis (guitars), Dick Taylor (bass), Ian Stewart (piano) and Mick Avory (drums)."
Encouraged by the fun they had on stage and the reaction of the audience, The Rolling Stones continued performing gigs around London.
By December, Brian Jones had dispensed with the stage name Elmo Lewis and Bill Wyman had become the band's regular bass player. A few weeks later, drummer Charlie Watts was persuaded to leave Blues Incorporated to join the Stones and the rest, as they say, is history.
Fuelled by a love of the blues and driven by the adrenalin of a live audience, The Rolling Stones slowly evolved into the greatest rock 'n' roll band in the world and along the way helped define global popular culture.
For decades, the road was their "home away from home" and, as they progressed from the smallest blues clubs to record-breaking arena tours, they pioneered production techniques that revolutionised live music.
I first saw The Rolling Stones at Earls Court in London in 1976 and I've been fortunate to see them dozens of times in the 35 years since.
A Rolling Stones concert is more than just a great piece of rock theatre, because there's just as much drama and excitement behind the scenes as there is on stage and in the audience.
The logistics are incredible, with hundreds of people moving thousands of tonnes of gear. It's like a military operation getting everything shipped from one city to the next.
The minute a concert is finished an army of stage crew immediately begin the task of dismantling the stage and work through the night to move the entire structure on to the next location.
Everyone involved is very proud of their work and the process is very impressive.
The band have two stages, and the crews "leap frog" each other, constructing one stage for several days ahead of the band's arrival.
This allows the band to spend plenty of time travelling and preparing for each show.
The area allocated for the musicians backstage is always an oasis of calm, with each member of the band relaxing and preparing in their own space, while the technicians rush around in what appears to be chaos but is actually a well-ordered process.
Over the years, as the stages became bigger, the band introduced various props that were incorporated in to the show.
These included inflatable figures and mechanical set-pieces that would emerge and withdraw at various stages throughout the concert. So there was a whole team of technicians working on a large number of cranes ensuring that everything appeared on cue.
Backstage is like a maze, many layers deep. There's a corporate backstage area where sponsors and their guests are, then there's a backstage area for friends of the band, then there's the backstage area where the band and their families are.
Everything was organised to ensure the band had everything they needed to perform at their best. You never saw anyone in the path of The Stones backstage.
But, although those massive shows were impressive and it was great to have that huge crowd of people sharing the feeling of togetherness on a sunny day in a big outdoor arena, the most amazing musical moments were when they would warm up in small clubs. Those nights were to me legendary.
I saw them play with Muddy Waters once in his blues club in Chicago. They jammed for hours, it was so great.
I think a lot of the band's staying power, and their phenomenal success, has been due to the abilities of Mick. He is a very organised businessman, but he also possesses great diplomacy. He can be very firm without losing his top. So he doesn't break off with people. People don't storm off and quit.
And, of course, there's the incredible bond between Mick and Keith, which has progressed to the point where they can virtually read each others' minds. Watching them live you can see them play off each other using some kind of mental telepathy.
I never understood how they actually recorded and wrote songs because Keith would play a riff, Mick would sing a few things and it just seemed to happen without discussion or without anything being written down.
Neither one of them reads or writes music, which is pretty amazing considering how many hits they have had. In the Guinness Book of Records, it says they have more gold records than any other band.
The blues is deep in their soul. And the rhythm is in their brain and in their body and they feel it. They're in sync physically and emotionally.
It's a gift that some people have and The Rolling Stones have it in spades.
Jerry Hall presents Rolling with the Stones - an intimate look at life on the road with the world's biggest rock group - on BBC Radio 2 at 23:00 on Wednesday, 11 July, 2012.
BBC 6 Music also celebrates The Rolling Stones all through July, marking the band's 50th anniversary with documentaries, interviews and live highlights from the BBC Archive.