Michael Fassbender signs up for Assassin's Creed film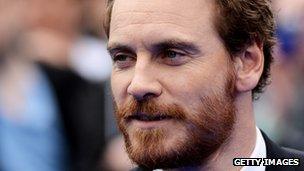 Bafta-nominated actor Michael Fassbender has signed up to star in a film adaptation of the blockbuster video game franchise Assassin's Creed.
The star will also co-produce the movie, said French games company Ubisoft, which created the series.
"Michael Fassbender was our first choice," said Ubisoft's Jean-Julien Baronnet, calling him "extremely smart, talented, versatile and committed."
Fassbender came to prominence with Irish political drama Hunger in 2008.
He has since starred in critically-acclaimed films such as Fish Tank and Shame, for which he won the best actor award at the 2011 Venice film festival.
But he has also been seen in big-budget sci-fi films including Prometheus and X-Men: First Class, in which he played Magneto.
Assassin's Creed is one of the biggest-selling games of the current generation of games consoles, with more than 30 million copies sold.
It depicts a family line of assassins and their conflict with the Knights Templar, which spans the Crusades, the Italian Renaissance and, in a forthcoming instalment, the American War of Independence.
Layered over the historical fiction is a sci-fi element: The main character is a modern-day barman, Desmond Miles, who is forced to travel through time to relive the story of his ancestors and collect artefacts.
It is not yet known which of the games three main instalments on whuch the movie will be based.
In the original, the characters are played by voice actor Nolan North - who also portrays Nathan Drake in the Uncharted games, and who recently won his first on-screen role in JJ Abrams Star Trek sequel.
Ubisoft is developing the Assassin's Creed film by itself, after talks with Sony disintegrated last year.
The games company recently founded a new wing, Ubisoft Motion Pictures, no doubt hoping to mimic the success of Marvel Comics, which has scored box office hits with independently-produced pictures including Iron Man, Thor and Avengers.
Ubisoft was previously stung by a flawed adaptation of another hit game franchise, Prince Of Persia.
Starring Jake Gyllenhaal and Sir Ben Kingsley, the Disney adventure was critically panned, and made $335 million (£215 million) against a reported budget of $200 million.
It is understood that Ubisoft regretted its lack of creative input in the film.
However, the games company, which is now seeking a director, may still partner with a major studio to distribute Assassin's Creed.
"We're open to re-discuss with the key studios once the production package is finalised," Baronnet told Variety magazine .
Ubisoft will also use its in-house production studios to create visual effects for the movie, in a bid to save costs.
Related Internet Links
The BBC is not responsible for the content of external sites.