Gromit was 'nearly a cat' says animator Nick Park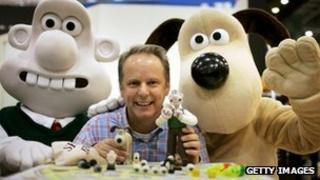 Gromit, the much-loved canine companion of inventor Wallace, was supposed to be a cat, creator Nick Park has revealed.
"I had this idea about a guy who builds a rocket in the basement of his house. I thought he had to have an assistant," the Oscar winning animator said in a Radio Times interview.
"So I drew a cat called Gromit. But when I came to model the cat out of clay, I found a dog easier to make.
"Plus I had a packet of dog's noses from a craft shop on me," he added.
"So Gromit became a dog."
'Discerning mind'
Park also revealed that Gromit was supposed to be a "bouncy, extrovert character but on the first day of shooting, he was too hard to move.
"I found it much easier just moving his brow. It gave him a personality, an inner, discerning mind. Suddenly he became a contrast; a child more intelligent than his father."
Wallace and Gromit's next outing is to the BBC Proms, where they will take part in the Family Prom on 29 July.
Proms director Roger Wright is a big fan of the Oscar-winning animated duo.
Wallace and Gromit composer Julian Nott has written a piece of specially-commissioned music for the occasion, titled My Concerto in Ee, Lad.
It will be performed by the Aurora Orchestra.
Wallace and Gromit will be backstage and their antics will be seen via a giant screen.
Favourite films
Park told the Radio Times that occasionally, the characters will be seen approaching the conductor via Wallace's "pneumatic sending device".
The Wallace and Gromit theme tune will also be performed, alongside works by Mozart, Debussy and Shostakovich.
The second half of the performance is a screening of the Wallace & Gromit short film, A Matter of Loaf and Death, with a live orchestral arrangement.
Park told the magazine that, other than his own work, his three favourite animation films were "the first 10 minutes of Up", The Incredibles and Toy Story 3.
The BBC Proms begins on 13 July and runs for eight weeks.
This year's event will feature 17 new commissions, with a further five world premieres, including Bob Chilcott's The Angry Planet.
Every concert will be broadcast live on BBC Radio 3 and online, and many of them will be broadcast on BBC One, BBC Two and BBC Four.