Maroon 5 regain number one spot on UK chart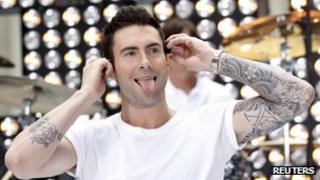 Maroon 5 have regained the number one spot on the UK singles chart after being knocked off the top spot by Will.i.am for one week.
Their single Payphone debuted at number one two weeks ago but was beaten by Will.i.am's This Is Love, featuring Eva Simons, last week.
Chris Brown's single Don't Wake Me Up moved up a place to second, while his album Fortune debuted at number one.
Linkin Park's Living Things slipped from top of the album chart to third.
Maroon 5 held on to second place with their album Overexposed.
Back on the singles chart, Will.i.am slipped to third, but former number one Call My Name, by Cheryl Cole, dropped from five to 10.
Blur could only manage a new entry at 34 with Under the Westway, one of two new tracks Damon Albarn debuted on Twitter last week.
N-Dubz star's controversial single I'm Coming (Tarzan Part 2) was also a new entry at 35.
The video for the rapper's song 2 featured the message "Free Leo Chindamo" in the opening credits, a reference to the man who killed headteacher Philip Lawrence.
Dappy took to Twitter to explain himself: "Just wanted to say I honestly wasn't aware he (Chindamo) did that, I knew his brother from when I was young."
"In no way did I intend to cause any upset and I didn't know about his past.
"My heart goes out to (Mr Lawrence)'s family," he added, "and I know too well the pain of losing a loved one."