Susan Sarandon pays tribute to Nora Ephron at festival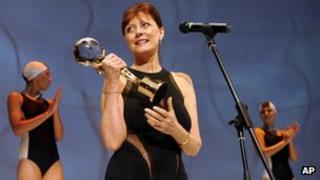 Actress Susan Sarandon paid an emotional tribute to the late writer and director Nora Ephron as she accepted a lifetime achievement award.
The Thelma and Louise star was honoured at the 47th Karlovy Vary International Film Festival in the Czech Republic.
Sarandon received a standing ovation at the ceremony on Saturday.
She tearfully told the audience: "I dedicate this to Nora Ephron, my friend and a wonderful director and writer."
Ephron died last month in New York.
Her films included When Harry Met Sally and Sleepless in Seattle.
Norwegian win
British actress Dame Helen Mirren was also honoured with a lifetime achievement award at Karlovy Vary but collected her prize - a crystal globe for outstanding artistic achievement - at the opening ceremony earlier in the week.
She also paid tribute to Ephron and used her speech as a platform to promote women in the film industry.
"Things have moved on... but they haven't moved on far enough yet."
She said she would like to see at least 50% of the films at Karlovy Vary directed by women in five years' time - although she said she would rather it was 85%.
The main film award at the event - The Grand Prix Crystal Award - went to Norway's The Almost Man.