The Man From Uncle producer Norman Felton dies at 99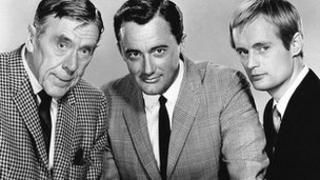 Norman Felton, the British-born producer of US TV shows The Man From Uncle and Dr Kildare has died aged 99.
According to trade newspaper, Variety , Felton died of natural causes in Santa Barbara, California on 25 June.
He co-created the spy thriller with Sam Rolfe, after initially developing the idea with 007 author Ian Fleming.
In 1965, he won a Golden Globe for the show and received an Emmy nomination the following year. He leaves a daughter and son and two grandchildren.
Born in London in 1913 to a lithographer and a cleaning lady, Felton's family emigrated to the United States in 1929 and settled in Ohio.
He attended the University of Iowa, earning his bachelor's degree and a masters in Theatre Arts in 1941.
Felton began his career in community theatre before moving to radio production and then TV production in 1950 - winning an Emmy for directing an episode of Robert Montgomery Presents.
In 1964, the first episode of The Man From Uncle was screened - it broke television boundaries pairing an American spy, played by Robert Vaughn, with a Russian agent - Scots actor David McCallum's Illya Kuryakin, at the height of the cold war.
The show ran for more than 100 episodes, until 1968.
Felton's other major TV success was medical drama Dr Kildare, which made a household name of Richard Chamberlain as the dashing young medic.
Felton continued to work as a producer through the 1970s, working with a diverse range of talent including Sally Field, Leonard Nimoy, and Jimmy Stewart on the critically acclaimed legal drama Hawkins
In 1997, he was presented with an honourary membership of the Producers Guild of America.