Danny Boyle 'sorry' over Olympic ceremony leaks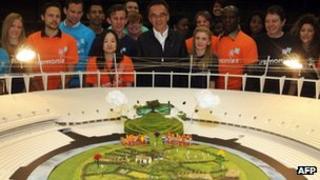 Danny Boyle, artistic director of the London 2012 Olympic opening ceremony, has apologised to volunteers over "spoilers" appearing in the press.
In an email sent to the 10,000 members of the public participating in the 27 July event, he asked them to "stay virtuous" and "protect the show".
"Many of you have been dismayed by the media scrutiny on the show," he wrote.
"I am sorry that, despite our best efforts, we appear to be unable to stop these stories appearing in the press."
At a media briefing last month, the Oscar-winning director revealed the ceremony would feature a recreation of the "British countryside" featuring country scenes and farmyard animals.
In the weeks that followed, several newspapers published follow-up stories revealing additional, unsanctioned information about the event.
"Some of you have asked why we agreed to the two media briefings we have done when 'open season' continues on trying to reveal every aspect of our work to the public ahead of 27 July," wrote Boyle in his email.
"We thought they would be a good way to satisfy the media's curiosity about our show but, in the case of certain papers, it hasn't quenched their desire to be the first to reveal every detail possible."
London 2012 organising committee chairman Lord Coe made similar comments on Twitter at the weekend asking for details to be kept secret.
"Share the frustration of volunteer performers and the public at Opening Ceremony being unofficially trailed. Let's #savethesurprise," he said.
After reading Mr Boyle's comments, Josephine LC, a Games Maker volunteer , wrote on Facebook: "... whilst a personal email not needed by me, it would have been very much appreciated if the apology also included the non-volunteers.
"Our GME - Games Maker Enthusiasm - was also being deflated by leaks and I promise you there are some mega enthusiastic Games Makers out there!"
Rehearsals continue at the Olympic stadium in east London, which has been fitted with a million-watt sound system.
Cast members have been asked to sign and abide by a non-disclosure agreement.
Animal pledge
Meanwhile, in a separate, hand-written letter, Boyle has pledged to animal rights campaigners that no harm will come to the sheep, cows, goats and other animals that are to be used during the show.
"Genuine care will be taken of the animals, including judging how they react to the stadium environment," he assured Ingrid Newkirk, managing director of Peta (People for the Ethical Treatment of Animals).
The Slumdog Millionaire director said the animals would "feature only in the beginning of the show during daylight hours and will leave the stadium… before any large effects or noisy sequences take place".
He also said that ceremony organisers would "vigorously" look into their subsequent retirement to animal sanctuaries.
A Peta spokesman said it was "satisfied" that "much more attention is now being paid to [the animals'] welfare".
But he said the organisation still had concerns about their transportation, their "use as props" and "the stress of unfamiliar surroundings".