HD signal 'lost' during Wimbledon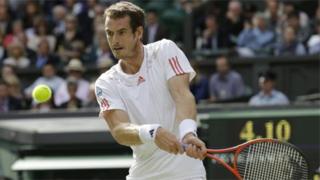 Viewers watching Andy Murray and David Ferrer's Wimbledon quarter final clash missed vital seconds of the match as BBC One HD went off the air.
Fans complained that the signal was lost for up to 10 minutes at 17:25, as the players fought a tie-break.
"It was down on Sky [and] Freeview," said one viewer on Twitter. "Sky had a very basic fault message on a black background. Freeview was just black."
But the match was still available on the BBC's standard definition channel.
Dozens of people complained about the loss of picture on social media sites.
"Who's stolen BBC HD?" asked Neil Sculley on Twitter.
"When will the HD return?" added Richard M . "It's been about 20 mins and no announcement."
Some viewers reported that when the picture did return, it was a standard definition picture, not HD.
But, by 18:00, normal service appeared to have been restored.
"Panic over, HD resumed on BBC," said Jamie Grace .
"Murray is now even uglier and angrier than normal."
The BBC said: "We apologise for the disruption to viewers during today's Wimbledon HD tennis coverage, although the game did carry on uninterrupted in standard definition."