Tom Cruise supported by Paramount studio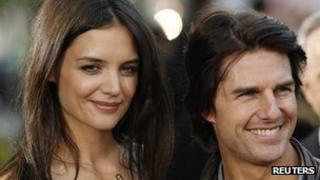 US film studio Paramount has offered its public support to actor Tom Cruise following the news that he and Katie Holmes are to divorce.
The film studio behind his upcoming movie, Jack Reacher, said it did not think the actor's personal life would have any bearing on his career.
"His ability to make a great movie... is the thing moviegoers remember above all else," it said in a statement.
Meanwhile, Cruise's lawyer said his client is to file a rival divorce case.
Bret Fields told Radio 1's Newsbeat he was allowing Holmes's legal team to "play the media" before allowing Cruise to tell his side of the marriage breakdown.
'Superstar'
According to the Hollywood Reporter , Paramount has no plans to alter the marketing schedule planned for Jack Reacher in the light of Cruise's personal issues.
"Tom is a huge movie star for the right reason," it said in its statement. "He's a very talented actor whose movies have entertained millions of fans."
Paramount has had a strained relationship with Cruise in the past and severed ties with his production company in 2006 after the release of Mission: Impossible III.
But the studio subsequently resolved its differences with the actor, teaming up with him to make last year's box-office hit Mission: Impossible - Ghost Protocol.
Paramount said it intended to retain its planned marketing materials for Jack Reacher ahead of its release in December.
The first trailer for the action movie, based on Lee Child's crime novels, began playing in US cinemas on Monday.
The Universal studio has also issued a statement in support of Cruise, calling him "a true superstar who consistently gives 150 percent of himself to every performance".
The actor, who celebrates his 50th birthday this week, has been shooting sci-fi movie Oblivion for the studio in Iceland.