Olympic visitors 'will attend shows,' research suggests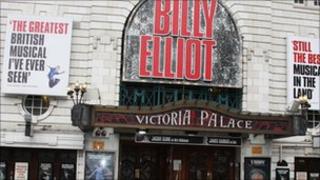 Most people with tickets for the London 2012 Olympics will also attend a cultural event, research suggests.
A survey by OnePoll found that 2.4 million Olympic ticketholders had already bought tickets to a concert, musical, exhibition or play.
A further 1.7 million said they hoped to take in a concert in the capital but had yet to purchase tickets.
In total, 66% of those attending the Games said they would see a show, but some agents have noted a drop in sales.
The Society of London Theatre told the BBC that, between January and March, revenues from advance ticket sales were down 7% year-on-year.
And Edwin Shaw of See Tickets recently told The Economist that summer bookings were down almost 20% compared to last year.
There are also fears that Londoners will curtail their attendance at cultural events, partly because of predicted transport issues in central London and partly because they intend to stay at home to watch the sport on television.
Legacy
Last December, theatre impresario Andrew Lloyd Webber warned that "most theatres" in London would shut, and said he knew of three musicals that would close for two weeks in July and August.
He revised his comments in March, telling Radio 4's Front Row that some shows were performing better than expected.
"Things like Warhorse are running ahead of where they might expect to be," he said.
"I think that the older shows and the big hits like the Warhorses and the Matildas will do fine.
"I think it is going to be difficult for the things that are coming to the end of their natural life anyway."
However, he added that he expected the games to provide a net benefit for London's cultural institutions.
"I hope the legacy of the Olympics [will] come back to give theatre a complete new lease of life in another way."
Sir Elton John also said he expected theatres to remain popular during the games.
"I am really optimistic," he told trade paper The Stage last month. "People will go and support theatre here. They come here [to London] and they want to do the lot. British theatre is fantastic."
Julian Bird, Chief Executive of the Society of London Theatre, said he hoped that visitors would sample London's theatreland. "Ticketholders for the games will doubtless wish to experience everything the capital has to offer and you haven't experienced London until you've seen one of our fantastic shows."
The BBC understands that, to date, only the Adelphi Theatre intends to "go dark" during the Olympics - as cast members of Sweeney Todd: The Musical had pre-arranged holidays.
Many of London's most popular music venues - including the O2 arena, Shepherd's Bush Empire and Brixton Academy - are quiet during August, but this is considered normal during the festival season.
However, festivals including Sonisphere, Harvest at Jimmy's and the Innocent Village Fete have been cancelled, with some citing competition from the Olympics.
Last weekend, the Vintage Festival announced it would be dramatically downscaled because it proved impossible to "operate as a stand-alone event" in 2012.
Dozens of other cultural events are taking place in London, and around the UK, as part of the London 2012 Festival.
The research on attendance was conducted on behalf of entertainment marketing agency AKA.
Of the 1,600 adults polled, more than half said they considered London to be the "cultural capital of the world".
According to estimates by Oxford Economics, 6.4 million people will visit London for the 2012 Olympic Games.