Outnumbered gets a fifth series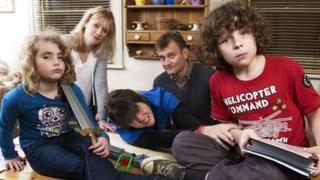 Award-winning sitcom Outnumbered is to return for a fifth series, producers Hat Trick have confirmed.
There had been rumours that the show's fourth series would be the last, partly because its young stars are growing up.
But they will return for a Christmas special this year, followed by a full six-episode run "late next year".
The semi-improvised show stars Hugh Dennis and Claire Skinner as two stressed-out parents whose unruly children cause chaos wherever they go.
Tyger Drew-Honey, who plays eldest child Jake, will be 17 when filming starts on the fifth series next year.
Speaking to What's On TV magazine last year, he said the sitcom was reaching the end of its lifespan.
"I think there is a chance of a fifth series, but I don't think it will go much further than that," he said.
"The point of Outnumbered is that it is set around the house with the school run and the madness of that. If everyone is mature I just don't think it will work."
However, Dennis - who also stars in The Now Show and Mock The Week - was more positive about the show's prospects.
"There appeared to be a limited life for it," he told TV Choice Magazine , "but actually kids are interesting at any age".
"Also, the Americans have bought the format, and they wouldn't look at anything they couldn't get 600 series that were 24 shows long! So this has led me to think maybe they're right."
Outnumbered is written by the creators of Drop The Dead Donkey, Andy Hamilton and Guy Jenkin.
It won best comedy at this year's National Television Awards, and has also picked up prizes from the Royal Television Society, Broadcasting Press Guild and the British Comedy Awards.