I Love Lucy actress Doris Singleton dies aged 92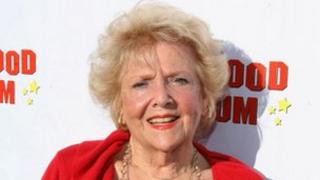 The actress, Doris Singleton, who appeared in the 1950s US sitcom I Love Lucy, has died at the age of 92.
Singleton's character, first called Lillian Appleby and then Caroline Appleby, appeared in 10 episodes as Lucy's neighbour, the wife of a radio station owner.
I Love Lucy was the most watched show in the United States in four of its six seasons.
Singleton died on Tuesday.
Lucie Arnaz, daughter of Lucille Ball and Desi Arnaz, who played Lucy and Ricky Ricardo in the hit show, confirmed the death in a post on her Facebook page.
Singleton's death also was reported by US media, including trade papers Variety and the Hollywood Reporter .
Born in Brooklyn, New York, Singleton was a professional ballet dancer in her teens, and later became a singer and radio actress.
She was married to comedy writer Charlie Isaacs for 61 years before his death in 2002.
She also appeared on dozens of TV shows in the 1950s, 60s and 70s, including another Lucille Ball program, Here's Lucy, Perry Mason, All In The Family, and Days of Our Lives.
She played Margaret Williams on the 1960s sitcom My Three Sons, along with Don Grady who also died this week, aged 68.
Grady played Robbie Douglas, one of American television's most beloved big brothers, on the long-running hit show.
His co-star Barry Livingston, who played the youngest brother Ernie, confirmed the death to the Associated Press.
Born Don Louis Agrati in San Diego in June 1944, Grady had a brief stint singing and dancing on The Mickey Mouse Club, from the age of 13.
While he made a handful of guest appearances on TV series in the 1970s and 1980s he worked primarily as a musician and composer, writing theme music for television and film.
Grady died at his home in California on Wednesday after a four-year battle with cancer.