Broadcasters 'spending less on arts', says Ofcom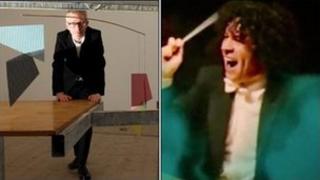 Spending on arts programming by the UK's five main television channels has decreased sharply since 2006, according to a report by Ofcom.
Spending on all arts and classical music content fell by 39%, from £72 million in 2006, to £44 million in 2011.
In contrast, spending on feature films rose by 41%, by £66 million to £228 million.
The BBC said it was "disappointed" by the thrust of Ofcom's report.
The media regulator examined the delivery of public service broadcasting on the BBC, ITV, Channel Four and Channel Five, looking at first-run, original content and acquired programming.
The BBC's director of strategic operations, John Tate, has criticised the findings, saying he is "disappointed" that Ofcom had chosen to "lay such emphasis on an apparent downturn in BBC content spend".
In a blog on the BBC website, Mr Tate said Ofcom's figures - which showed the BBC's spend on all original content fell by 11% last year to £1.25 billion - failed to consider programming in the nations and regions.
He also pointed to the absence of a major sporting event last year, while 2010 played host to the World Cup and Winter Olympics. He said this meant the BBC's expenditure on sport contracted by £85 million last year.
"Much of that money has been held over to 2012 to cover the Diamond Jubilee, Euro 2012, the Cultural Olympiad and the Olympics.
"I therefore expect the increase in 2012 to make up the fall in 2011," he said.
The report shows that, during 2011, the amount spent by the broadcasters on first-run, original arts and classical music content suffered the sharpest fall - by 15% year-on-year, to £41 million.
Over a five-year period, spending on new drama and soaps fell by 30% to £538 million.
There was also a decrease in expenditure on drama across original, acquired and repeated programming, which dropped by 11% between 2010 and 2011, from £721 million to £642 million.
The report also found that the total number of hours that viewers spent watching drama across the five main channels fell from 80 in 2006 to 65 last year.
Four of the top five highest-rating new dramas in 2011 were broadcast on ITV1. It also has an arts strand, Perspectives, which was commissioned for a second series earlier this year.
The broadcaster said it is "incredibly proud" of its original drama content and is a "major investor" in this genre.
Ofcom said it acknowledged in the report that the budget for first-run, original content is influenced by cyclical occasions such as major sporting events, and that compared to the previous year, 2011 had far fewer.
A spokesman for the regulator commented: "We publish each of the PSB channels' spending on first-run, originated programming based on returns provided by each broadcaster, and on the same basis as all the previous PSB annual reports.
"The report also includes details of total spend on network content and first-run originated spend for viewers in each of the nations."
Film spend
The media regulator's report did show, however, that there were year-on-year increases in original entertainment and comedy programming, by 6%, or £28 million.
Factual, which rose by 2% between 2010 and 2011, was the only other category in which year-on-year spending increased.
Across all hours of output - including original, acquired and repeated programmes - year-on-year spending rose the furthest in entertainment and comedy.
It increased from £514 million in 2010 to £551 million in 2011, representing a rise of 7%. This was down, however, from £626 million in 2006.
The only genre where spending increased over a five-year period was feature films, where spending on all hours of output rose by 41% to £228 million between 2006 and 2011.
During the same period, spend on original films rose by 196%, from £18 million to £28 million.
The report also showed that the proportion of people watching BBC One in a typical week had increased over the five years from 2006, from 77% to 79% in 2011.
BBC Two increased its proportion from 52% to 54%, while ITV, Channel Four and Five all decreased.