Flaming Lips set Guinness World Record for live shows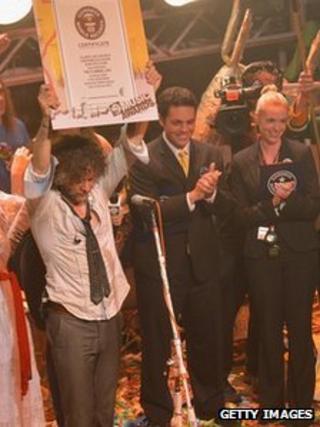 US rockers The Flaming Lips have set a Guinness World Record for the most live shows in different cities in 24 hours.
The band performed eight times across the Mississippi Delta, as part of MTV's O Music Awards.
Beginning in Memphis, Tennessee, they finished up at the House of Blues in New Orleans, Louisiana, with 20 minutes to spare before the deadline.
The previous record was held by Jay-Z, who played seven shows from Atlanta to Los Angeles in 2006.
The band were joined by various acts during their mini-tour including Jackson Browne, Grace Potter & The Nocturnals, Neon Indian and Jackass stuntman Chris Pontius.
Speaking on stage after official confirmation of the new world record, frontman Wayne Coyne said: "At five o'clock this morning you thought you were going to crawl in, barely be able to sing and hope you can just survive it.
"But as the day went, everywhere we would go they'd give us energy - now I feel I could go another 24 hours."
However the singer said he was not sure if he would attempt to break the record again if his feat was beaten in the future.
"All those venues we played - when we knew we had to leave after just 15 or 20 minutes - I honestly wish we could have stayed at those and kept playing."
In a statement released later, Coyne added: "To be published alongside the man who ate 22lbs (10kgs) of his own boogers, beside the woman with the longest toenails or perhaps even to be published beside an individual who has had maybe 1,000 cockroaches stuffed into their ears... that, to me, would be one of life's absurd joys."