Stephen Mangan 'bitterly upset' over axed Dirk Gently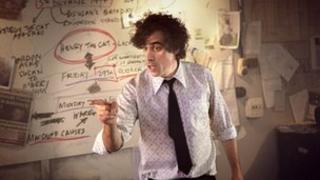 Actor Stephen Mangan has admitted he is "bitterly upset" at the BBC's decision to drop the Dirk Gently series.
The BBC said last month that the Douglas Adams-inspired show on BBC4 had not been recommissioned due to the freeze on the licence fee.
More than a million viewers watched the Dirk Gently pilot in December 2010.
A three-part series followed in 2012, with just under 600,000 viewers tuning for its final episode in March.
The show, based on Adams's "holistic" detective, also featured Darren Boyd as Gently's sidekick Richard MacDuff.
Mangan, appearing in a new play at the Royal Court this week, told the BBC News website that he'd been "gratified" by the reaction of fans to the news. Many had taken to Twitter to express their dismay .
"You wonder whether it's just you that's bitterly upset," he said.
"You put your heart and soul into it, and I wasn't the only one. A lot of people worked really hard to produce something that, by all accounts, is a triumph and then doesn't go on."
The actor said he understood the BBC "had to cut their budgets".
"You would have hoped that another channel could have taken it in and found a place for it. The politics of that are devastatingly complicated.
"No-one from the BBC has spoken to me about it, but we have to hope that when things pick up in a few years someone will come along and dust off the covers of Dirk's Austin Leyland Princess [car]."
News that the Dirk Gently series had been dropped was originally revealed by Mangan on Twitter a month ago.
"We've loved having Dirk on the channel but the licence fee freeze means less British drama on BBC4," said a BBC spokeswoman at the time.
"In future we will focus on the best dramas from around the globe, like The Killing and Borgen, whilst BBC One and BBC Two become the main homes of original British drama."
As well as his new play in London, Mangan is currently recording the voice for a 3D movie version of Postman Pat, due out in 2013.
"It's nice to do something that my four-year old son can enjoy, as well as all my aunts and uncles who have to sit through some quite gruesome television," said Mangan.
He revealed that he "can't stray too far" from the voice used for the TV character because "it's what children want to hear".
"I also have to sing - which is going to be a challenge," he added.
Mangan has recently been seen in the second series of Episodes on BBC Two, alongside Matt LeBlanc and Tamsin Greig.