Land of Decoration wins Desmond Elliott fiction prize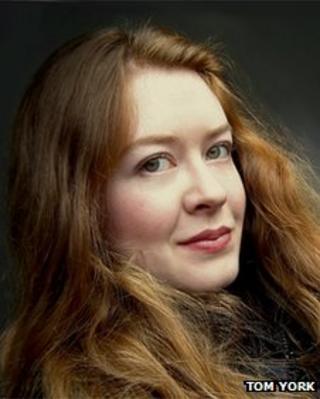 The Land of Decoration writer Grace McCleen has been named winner of the Desmond Elliott Prize for new fiction.
Her debut tells the story of a young girl living in a Christian sect, based on her own experiences growing up.
Judges said the novel was "unlike anything you have ever read".
However, McCleen said on her website that she intends to abandon her literary career "to concentrate on music... which I would love to have pursued when I was younger".
Although Land of Decoration is her first novel to be published, the author had already written two other books by the time it appeared in print.
She has said publicly that she will not miss writing once she gives it up.
"I have just finished my fifth novel (fourth that will be published) and the last I will write," she said on her website.
McCleen beat poet Patrick McGuinness's The Last Hundred Days and bookmakers' favourite Rachel Joyce's The Unlikely Pilgrimage of Harold Fry to win the £10,000 prize..
Judges praised "the vivid and life-affirming" tale about a young girl who believes "the Last Days" have come.
"The Land of Decoration is a novel that can move the reader from sadness to laughter with alarming suddenness," said Sam Llewellyn, chair of the judges.
"Grace McCleen's voice sparkles with imagery and ideas, and she uses it to tell a story that is simultaneously multi-layered and absolutely compelling."
He was joined on the judging panel by Tom Gatti, Editor of The Times Review section, and Caroline Mileham, Head of Books at Play.com.
Miracle worker
The Land of Decoration was published in March this year and has also featured on the Waterstones 11 list of promising young novelists. It was picked by Sunday Times Culture as one of 2012's must-read novels.
The story is narrated by 10-year-old Judith McPherson who is a member of the Christian Brotherhood of the Last Days.
After being bullied at school and shunned by the community, she finds solace in a model world she makes in her bedroom, inspired by the Old Testament's Promised Land.
When she creates a snow scene in the Land of Decoration and real snow begins to fall outside, Judith starts to believe she can work her own miracles.
Author McCleen was herself brought up in a fundamentalist Christian sect in Wales.
She went on to read English Literature at the University of Oxford and began work on The Land of Decoration whilst completing an MA at the University of York.
This year marks the fifth anniversary of the award, set up in memory of publisher and literary agent Desmond Elliott to enrich the careers of new writers in the UK and Ireland.
Last year's prize was won by Saraswati Park author Anjali Joseph.