BBC global audience rises by 14 million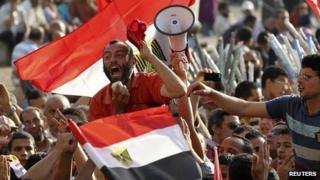 The BBC's global weekly audience rose by 6% to 239 million in 12 months, driven by coverage of the Arab Spring.
Director of BBC global news, Peter Horrocks, said people flocked to the BBC's Arabic and Persian services, "as tumultuous events in the Middle East and North Africa unfolded".
"Audiences increasingly turned to the BBC for independent news they could trust," said Mr Horrocks, in a blog.
He said this was despite journalists facing "severe and varied" challenges.
Mr Horrocks said these ranged, "from increased harassment and intimidation to persistent efforts to censor the BBC's news".
'Significant cuts'
Mr Horrocks also said that BBC World Service had faced "significant cuts to funding" and was currently undergoing "disrupting and painful change".
BBC World Service increased its overall audience by 8% in 2011, from 166m to 180m.
Mr Horrocks said the overall figures would have been higher without Government cuts which "lessened the BBC's ability to take our journalism into some countries".
The BBC has closed five language services and announced plans to lose a quarter of the World Service workforce - around 650 jobs - over three years.
However, following the events of the Arab Spring last year, the Government decided to award the BBC World Service an extra £2.2m a year to help pay for its Arabic section.
Foreign Secretary William Hague said it was to help fund its "valuable work in the region".
In the past 12 months, the BBC's Arabic Service has seen a record rise in audiences with 25m adults tuning in every week.
Meanwhile, BBC Persian TV has doubled its reach in Iran, to an audience of 6m people, "despite facing a campaign of censorship and intimidation by the Iranian authorities".
'Challenges ahead'
Last week a report into the BBC's coverage of the Arab Spring found it was was generally impartial, but could have benefited from greater breadth and context.
The BBC Trust said the BBC should do more to make it clear how it has authenticated user-generated content (UGC), such as mobile phone footage.
Overall the report described BBC coverage as "remarkable" and praised the "considerable courage" of journalists and technicians.
In his blogpost, Mr Horrocks paid tribute to journalists covering a range of global stories including Afghanistan, the deaths of Gaddafi and Osama Bin Laden, and famine in the Horn of Africa.
"The combined increase across all our international news services is first and foremost a credit to the dedication, bravery and professionalism of our journalists," he said. "In today's world, theirs is a tough calling."
Horrocks said that there were still challenges ahead, including the need to "stay relevant" in the face of increasing competition, with "the Chinese, Russian and Iranian Governments all pumping money into journalism designed to give their own perspective on the world".
He warned: "None of this is cause for us to rest on our laurels", calling the increase "cause for cautious confidence but certainly not complacency."
But he added: "These figures are a step in the right direction as they underline the international desire for the sort of independent journalism that the BBC provides.
"Globally, there remains a dire need for journalism that isn't slanted towards any one country, political or commercial viewpoint."