Photographers boycott Stone Roses gigs in contract row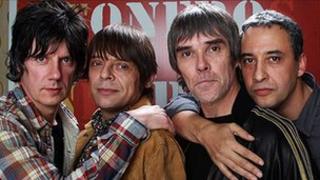 Photographers are planning to boycott the Stone Roses reunion concerts in Manchester this weekend in a dispute over the use of their images.
They claim a contract issued by the band is unfair as it expects them to surrender all rights to their pictures.
The National Union of Journalists is supporting the boycott.
A spokesman for the band denied there was a boycott and said a full quota of photographers will be covering the gigs.
Rights
The Stone Roses will play three gigs at Heaton Park in Manchester this weekend.
It is claimed that photographers covering the gigs were initially asked to sign a contract which would see the Stone Roses pay £1 to own all the rights to the pictures.
It also stated the images could be used across all merchandise without crediting the photographers.
An improved contract was produced on Monday but it too has been rejected by photographers.
Photographer Ian Tilton, who is encouraging his colleagues to take part in the boycott, has photographed the Stone Roses on several occasions.
His images have previously been used for some of the band's album covers.
He said it is unacceptable for the band to expect photographers to surrender their copyright meaning pictures could only be used in the magazine which commissioned them.
"I understand that the Stone Roses want to make money from the pictures. But I don't agree that the photographers can only use the pictures once, for one publication," said Mr Tilton.
"The photographers should be allowed to earn money from the pictures they take," he added.
Assistance
John Toner, from the National Union of Journalists, said they will provide every assistance to the photographers.
"Too many musical artistes now wish to grab rights from photographers. Having said that, people are surprised that the Stone Roses have chosen to go down this route.
"We fully understand why a band would wish to retain merchandising rights, and the photographers would be happy to concede this. Equally, a photographer must have the right to license editorial use of images without obtaining the band's permission for each use," he said.
The Stone Roses press agent, Murray Chalmers, said it is normal for contracts to be signed and, as far as they are concerned, "there is no boycott".
"We have a complete list, a full quota of photographers who are covering the concerts," he added.