Fifty Shades of Grey beats one million sales record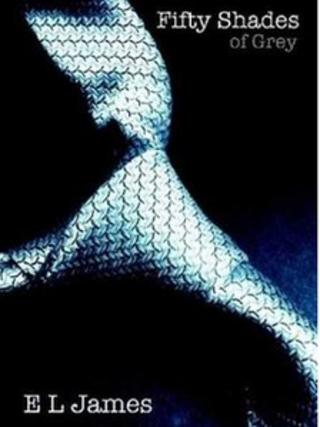 EL James's Fifty Shades of Grey has become the fastest adult paperback novel to sell one million print copies.
The first in the erotic trilogy passed the million mark in 11 weeks, smashing the previous record of 36 weeks set by Dan Brown's The Da Vinci Code.
The book also broke the weekly record for paperback sales, selling 397,889 copies, according to Nielsen Bookscan.
It beat JK Rowling's The Tales of Beedle the Bard, which sold 367,625 copies in 2008.
Sequels Fifty Shades Darker sold 245,801, and Fifty Shades Freed sold 212,832 across last week, with the entire series outselling the rest of the top 50 by about two to one.
Fifty Shades of Grey is currently the 32nd bestselling book since records began in 1998.
Kindle triumph
Publisher Random House told The Bookseller it could not confirm exact digital sales for the trilogy, but said ebooks were "at a similar level" to physical sales.
However, online retailer Amazon said on Tuesday that Fifty Shades of Grey had become the first ebook to sell one million copies for Kindles.
Dan Brown still holds the overall weekly adult sales record for The Lost Symbol hardback, which sold 550,964 copies in September 2009.
JK Rowling holds the single week record across all genres, with the last three hardbacks in the Harry Potter series having weekly sales highs of 1.8 million and 1.4 million (for the final two books) respectively.