Berry Gordy Motown musical set for Broadway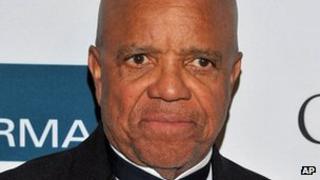 A musical based on the life of Motown Records founder Berry Gordy is set to open on Broadway next year.
Producers said Motown the Musical would feature songs made famous by artists who found fame with the label including Stevie Wonder and the Jackson Five.
Gordy will write and co-produce the show, which will open next spring.
The 82-year-old mogul said the production was "a challenging and exciting opportunity to tell my story and share the magic of Motown".
"I can't wait to feel that same Motown spirit come alive on stage every night," he added.
Producers described the show as "a gripping story about the proteges and stars of a uniquely talented musical family who, under Gordy's guidance, began as the Sound of Young America and went on to become some of the greatest superstars of all time".
Other songs to feature in the musical include those made famous by Diana Ross and the Supremes, Smokey Robinson, The Temptations and Marvin Gaye.
Producer Doug Morris said: "This is an amazing opportunity for everyone to experience the Motown phenomenon through the eyes of the man who lived it."
Casting for the show has yet to be announced.