Northern Ballet gains dancers after cuts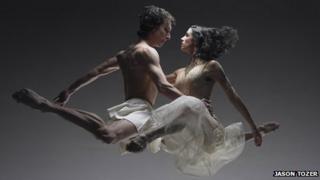 Northern Ballet, which had feared the loss of a quarter of its dancers after funding cuts last year, has said it has increased its head count after a sponsorship campaign.
The Leeds-based company planned to reduce its dancers from 40 to 30 after a 15% real terms Arts Council cut.
Its roll call has now risen to 42 after sponsors made up the funding shortfall.
But chief executive Mark Skipper said it may be a temporary gain if sponsors do not stay on board for the long term.
Northern Ballet is the only classical ballet company in the north of England and one of the UK's most respected dance organisations.
The company said Arts Council England cuts last March, which saw hundreds of organisations have their budgets reduced, left it with a £500,000 shortfall.
Meanwhile, the government suggested that philanthropy could help make up the deficit.
"We have definitely proved it can be done," Mr Skipper said. "But I don't think it's necessarily something that can be repeated, and that's the problem."
After the cuts, Northern Ballet planned to shed 10 of its 40 ballerinas - a move described as "hideous" by Mr Skipper on BBC Two's recent behind-the-scenes documentary Arts Troubleshooter.
The company launched fundraising campaigns titled Buy Back A Dancer and Sponsor A Dancer, which have now raised £450,000 from people and companies including law firms, management consultants, town planners and even Leeds Rhinos rugby league club.
That means the head count of ballerinas has increased - but many sponsors have committed for one year only.
"The problem we've also got is that more and more companies are having to get involved in fundraising," Mr Skipper said. "More will be employing a higher calibre of fundraiser, who will then be going out to all the same places that we are.
"It's a short-lived gain from our perspective. It is an ongoing challenge."
The company moved into a new £12m headquarters in Leeds in 2010 and stages around 140 performances per year around the UK.
Its cuts came after Arts Council England had its government subsidy cut by 30%, or £100m, in 2010.
Culture secretary Jeremy Hunt then began a drive to encourage philanthropy, saying there was "huge scope to strengthen private and corporate support for culture".
However, investment by businesses in the arts has dropped to its lowest level for seven years, according to figures published in February by Arts and Business, a body that aims to stimulate private investment.
Arts and Business director Philip Spedding said Northern Ballet's success was "on the rarer side" in the cultural sphere. "It's undoubtedly tough out there. It is also very competitive out there," he said.
Some arts organisations have had trouble adapting to a more entrepreneurial mindset, he added.
"There are some arts organisations large and small that have absolutely got that and are moving forward, and there are others who haven't.
"There are also some who say 'we can't do it in our location because there's no money'. What I think is interesting about the Northern Ballet example is that this clearly puts the lie to that."