The 'mummy porn' author and the suburban bookshop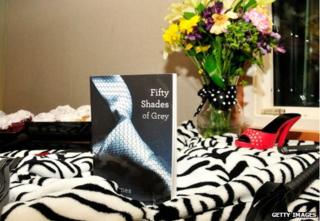 The titillating Fifty Shades of Grey trilogy has been whipping up eye-watering sales. Good news at last for bookshops. No. Wait. Many of these sales are digital.
"How many copies of the EL James book have you sold?"
"What?" says the mature grey-haired lady serving me in a small but well-stocked suburban bookshop. I repeat the question.
"Who?" she says, looking perplexed. "EL James, as in the novelist," I explain. Nothing.
This is awkward. Although she is dressed in a standard bohemian granny outfit - loose t-shirt, shapeless skirt and sporty pumps, and has probably experimented with more substances than I've even heard of - the fact is she's old enough to be my mother and therefore someone with whom I feel uncomfortable discussing "mummy porn" in any more detail than the author's name.
I give it another try. "You know…," I say, while supplementing my words with an unnecessarily gauche under-the-counter type mime "E... [nod] L… [wink]… James."
She drops her thick-rimmed glasses below the bridge of her nose and looks at me with a pair of green-blue eyes that twinkle with intelligence and then speaks in a stage whisper, which I take to be a mark of respect for the great novels that line the walls of her store.
"I'm so sorry, do you have an ISBN number?" I think she's becoming impatient.
But then how can anyone working in a bookshop anywhere on the planet not have heard of EL James, the subject of thousands of columns inches owing to her authorship of the erotic novel Fifty Shades of Grey, which has now sold over 10 million copies worldwide.
When our eyes meet again, Bohemian Granny suddenly clicks as if someone has actually dropped the proverbial penny in the slot.
"Oh her!" she says as if it's me being dim. "Yes of course, what do you want to know?"
Well, not much. I'm across the basics. EL James's real name is Erika Leonard, she lives in London, is middle-aged and tends to be described by the media slightly disapprovingly as "the mother of two teenage boys". She started her literary career by posting stories on a fan fiction website under the heading Masters of the Universe, in which she took Stephenie Meyer's Twilight series as her starting point.
She then left that site due to the racy nature of her tales and started her own domain called 50shades.com. An independent Australian publisher saw the material and signed her up - turning a website into a book, which was then largely purchased as an e-book.
Sales were so good that the corporate publishing industry raced for the rights, with Random House winning the bid. The film rights went next, quickly followed by the unseemly sight of every major publisher in the world scrabbling around for some female-friendly porn to push.
I'm sorted on all that.
All I want to know is how many EL James books she has sold: a question I initially pose as a way of passing the time while she charges me £9.99 for Whoops! by John Lanchester. But having come this far, I'm now keen to know the answer.
"Two," she replies.
"Two! Two? You must've shifted more than two over the past week."
I'm astonished. This is a book that has sold 205,130 copies in the UK over the past week alone. A figure that has "obliterated the weekly sales record for a paperback novel", according to this week's The Bookseller (subscription only). It is, they say: "64,000 copies higher than the previous record set by Dan Brown's The Lost Symbol in 2010."
If you add the sales of the two follow-up books in the saucy trilogy - Fifty Shades Darker and Fifty Shades Freed - to the total spent on her fiction over the past seven days, it would come to a combined figure of £1,934,500, which is more than the next 50 bestselling novels added together.
"Oh, you mean this week," she says. "I haven't sold any this week. Two is what I have sold in total."
Surely not? I thought suburban Britain was supposed to be a hotbed of key-swapping swingers who would glory in EL James's erotica.
"Who do you think is buying this book if not your customers?" I ask.
A look of inner confidence washes over her face. "Silly mothers," she says with absolute certainty. "The giggly sort, not the type who would normally read a book."
At which point a previously unseen presence makes itself felt in the shape of a younger woman who looks to be in her mid-30s. She has stepped out from behind a free-standing bookcase causing both me and the shopkeeper a little start of alarm as we thought we were alone. Nobody likes a lurker.
The woman is holding two paperbacks, neither of which is Fifty Shades. She wears tight jeans tucked into a pair of black leather boots, above which is a pink coat fastened by black horizontal leather straps and buckles. She has a short blonde bob and a feisty air.
"That's a bit of a cliched caricature," she pronounces.
Bohemian Granny is embarrassed: a high-minded liberal shown up to be an intellectual snob.
"Who do you think is reading it then?" I ask.
"School teachers," the lurker says emphatically.
"Eh?"
"People who already read," she clarifies. "Friends of mine. It's not just people who don't normally read books."
"Have you read it?"
"No. It's not my sort of thing. I'm not into BDSM," she says flatly.
"And school teachers are?" Bohemian Granny chips in, and then says rather plaintively, "I hope it's not the future of books".
I smile benignly and say nothing, yet feel for this lady whose livelihood it is to sell books. Because EL James does signal the future of books. Not "mummy porn" as such, but the way in which readers purchase her novels.
One reason, perhaps the main reason the suburban bookshop has sold so few copies of Fifty Shades is not down to its location, but its function. The majority of readers have bought Fifty Shades digitally - either in e-book form or as a printed publication with one click of the mechanical mouse from online book sellers.
When I surveyed the industry a year ago, most publishers and commentators thought that e-books would eventually account for about 50% of the market, but it'd take 10 years or so to get there. During which time the publishing industry thought it would have found a way to help physical shops survive, as they consider a shop window and human interaction to be essential to their business.
But The Bookseller this week reckons that about 40-50% of copies sold of Fifty Shades in the UK have been digital. Obviously the nature of the subject matter has something to do with that, but it is an ominous figure nevertheless for the bookshops and publishers.
One major publisher tells me that High Street booksellers are in much worse shape than most of us imagine. We know about the closures, but we don't know that this publisher has put many shops on "stop", meaning they will no longer supply them until old invoices are paid. For a publisher desperate for a High Street presence for its books, that is an action taken only as a very last resort.
The conversation between Lurker and Bohemian Granny has moved on from BDSM to book clubs and summer reading lists. They are having a great time, enjoying their shared love of books. I make my excuses and leave, looking down at Lanchester's Whoops! - a book that tells the story of the global financial meltdown.
The first points he makes is that nobody saw the crash coming, and when it did arrive, everything happened much quicker and more catastrophically than anyone had expected. It could be that book publishing is in for a similar ride.
My hope is that the bookshop I visited is still there when EL James brings her next titillating trilogy to the masses.
But I have a nasty feeling it won't be.