Prometheus remains UK's number one film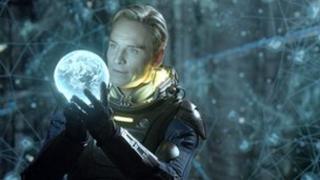 Science-fiction thriller Prometheus has spent a third weekend at the top of the UK and Ireland box office chart.
Sir Ridley Scott's return to the Alien franchise took £2 million between Friday and Sunday, taking its UK total to £19.4m.
The rest of the top three also remained static, with Men In Black 3 at two and Snow White and the Huntsman at three.
That left Tom Cruise's 1980s-era musical Rock of Ages languishing at number four in its opening weekend.
The film, based on a successful stage musical, took a relatively meagre £1m, including £213,664 from two days of previews.
The movie, which also features Russell Brand and Catherine Zeta-Jones, fared badly in the US as well, entering its chart in third place with takings of $14m (£8.9m).
Cruise was not the only A-lister to suffer at UK and Ireland cinemas over the weekend.
Red Lights, a paranormal thriller starring Robert De Niro and Sigourney Weaver, debuted at number six with takings of £445,109.
Fast Girls, a sports drama about a British female sprint relay team, was the only other new release in the Top 10, claiming eighth place with takings of £335,700.
Cosmopolis, David Cronenberg's latest film, made its debut at 14, having only opened in 62 cinemas.
On a screen by screen basis, however, the film - starring Twilight actor Robert Pattinson - was the weekend's fifth most popular title.
Next week's takings are also likely to be limited, with the summer blockbuster season temporarily on hold for the Euro 2012 football tournament.
This week's new releases include romantic comedy The Five-Year Engagement and horror spoof Abraham Lincoln: Vampire Hunter.