Nelson Mandela's Shakespeare edition to go on display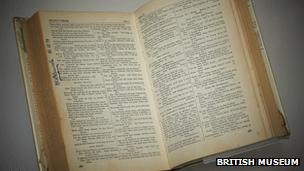 A copy of the Complete Works of Shakespeare that inspired Nelson Mandela while he was in prison in South Africa is to go on display in London.
The edition, which was smuggled into the Robben Island jail, includes notes added by Mandela and other prisoners it was shared with.
The book, dubbed the Robben Island Bible, will be part of an exhibition celebrating the playwright.
Shakespeare: Staging the World opens at the British Museum on 19 July.
The book has a cover featuring Hindu deities from Diwali greetings cards, a disguise designed to trick the prison wardens.
The passage Mandela chose as his favourite was from Julius Caesar, just before the Roman statesman leaves for the senate on the Ides of March.
It includes the lines: "Cowards die many times before their deaths/The valiant never taste of death but once."
Mandela was imprisoned for 27 years during the apartheid years before being released in 1990.
He went on to become the country's first black president.
The Shakespeare book was smuggled in by fellow prisoner Sonny Venkatrathnam.
The exhibition is part of the World Shakespeare Festival, under the umbrella of the London 2012 Festival.
It will feature almost 200 objects, including an Ides of March coin commissioned by Brutus shortly after the assassination of Caesar in 44 BC.
A number of items excavated from the sites of the Globe and Rose theatres in London, where Shakespeare's plays were performed during his lifetime, will also be shown.
Related Internet Links
The BBC is not responsible for the content of external sites.