Comedian Duncan Norvelle suffers stroke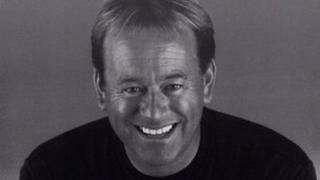 Comedian Duncan Norvelle, a familiar face on British TV in the 1980s, is recovering after a stroke.
Known for his catchphrase "chase me", the 54-year-old suffered paralysis down his left side and has been in hospital for nine weeks, his co-manager said.
He has cancelled a summer season with Cannon and Ball in Blackpool, Skegness and Scarborough.
"He's been in hospital since the first week in April," Tony Jo said. "His left leg and left arm were paralysed."
Doctors said they hoped he could be discharged in the next two to three weeks, Mr Jo added.
An array of variety stars will appear at a benefit show at the Blackpool Grand theatre in October.
"Because of his situation, and what he's done for charity in the past, of course we'll look after him, as we do with every artist in Blackpool," Mr Jo said.
"We'll have a benefit show for him and we've got some wristbands done with 'Chase me' on them. We'll set up a trust to pay all his bills while he's off and hopefully he'll be back at work next year."
Norvelle rose to fame on the ITV variety show Saturday Royal in the early 1980s and was last seen on TV on the Come Dine With Me Comedy Christmas Special in December.
Former Crackerjack star Stu Francis has replaced Norvelle on the summer season bill.