Gone With the Wind actress Ann Rutherford dies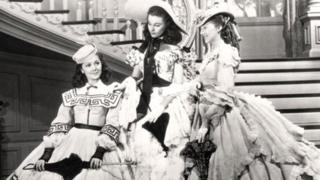 Ann Rutherford, best known for playing Scarlett O'Hara's youngest sister Careen in Gone With the Wind, has died aged 94.
The actress also starred as Mickey Rooney's girlfriend, Polly Benedict, in MGM's long-running Andy Hardy series.
Her close friend, actress Anne Jeffreys, confirmed she died at her Beverly Hills home on Monday night.
She told the Los Angeles Times that Rutherford had been suffering from heart problems.
In an interview with the LA Times in 2010, Rutherford said that MGM boss Louis B Mayer was initially going to refuse her the part in Gone With the Wind.
However, she revealed he relented after she burst into tears, saying she was a huge fan of the novel and "just wanted to watch the book come to life".
Afterwards, Rutherford continued to make Andy Hardy movies and later appeared in other films, including 1947's The Secret Life of Walter Mitty.
She had launched her movie career in Westerns while she was still a teenager, appearing with both singing cowboy hero Gene Autry and John Wayne.
The actress retired in 1976 but in 1989 was one of 10 surviving Gone With the Wind cast members who gathered in Atlanta to celebrate the film's 50th anniversary.
At the event she spoke about the story's appeal, saying "Anyone who had read the book sensed they were into something that would belong to the ages, and everyone was in a frenzy to read the book."
Rutherford agreed with other cast members that regardless of what other things they achieved in their lives, "Our obituary will say we were in Gone With the Wind and we'll be proud of it."