Slash to receive Hollywood Walk of Fame star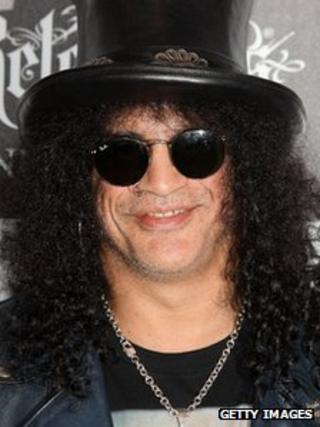 Former Guns N' Roses guitarist Slash is to receive a star on the Hollywood Walk of Fame next month.
The musician, who is the first member of the rock band to receive the pavement plaque, will be honoured at a ceremony in front of the Hard Rock Cafe on Hollywood Boulevard on 10 July.
He will be saluted by movie mogul Robert Evans and actor Charlie Sheen.
Organisers praised Slash, who grew up in Stoke-on-Trent, as "one of the greatest rock guitarists of all time".
"We are proud to place his name among the stars on our fabled Hollywood Walk of Fame," Ana Martinez, producer of the Walk of Fame ceremonies, said.
The guitarist will also be performing an acoustic show and Q&A at the Hard Rock Cafe after the ceremony.
Slash was the lead guitarist of Guns N' Roses from 1985 - 1996, leaving after a feud with lead singer Axl Rose, who is the only original member remaining with the band.
He has since performed and recorded with side group Slash's Snakepit and supergroup Velvet Revolver.
The musician has also recorded solo material, with his second album, Apocalyptic Love, released last month.