Matt Smith on pain behind 1948 Olympics' Bert and Dickie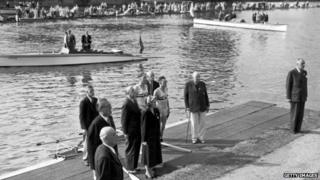 The BBC film Bert and Dickie, starring Doctor Who star Matt Smith and Sam Hoare, tells the true story of two British rowers, thrown together just weeks before the London 1948 Olympics. It turns out they had to battle more than just foreign rivals in order to win gold.
It is Monday 9 August 1948, and the late afternoon sun beats down at Henley on Thames, where a capacity crowd awaits the first day of Olympic rowing finals since the 1936 Games in Berlin. The last 12 years have shaken the world to its foundations.
Great Britain is historically strong on the water but in double sculls, the pair of Bert Bushnell and Richard "Dickie" Burnell have only narrowly made the final, where they must battle the formidable Danes and Uruguay.
Although each is a highly accomplished oarsman, they have only been training together for five weeks and make an unlikely couple.
Standing 6 feet 4 inches tall, Dickie is an Eton and Oxford Blue and rowing correspondent for The Times, whereas grammar school-educated Bert is a slight 5 feet 9 inches, and apprenticed to a Southampton ship-builders.
The latter admits he has a chip on his shoulder about the differences in their social standing and the fact that he has been overlooked for the solo event.
Meanwhile this is 31-year-old Richard's last chance to try to live up to his father Don's gold medal in the 1908 Games.
On top of all this, they have been trying to train for the notoriously hungry sport on strict rations, something their other competitors have not had to contend with.
But as the starter shouts his command of "Partez" it all comes down to less than seven minutes of rowing and which crew can push themselves the hardest.
Blisters and dunking
Fast forward more than 60 years to almost the same stretch of river, and another new rowing partnership.
Matt Smith, taking time out from Doctor Who, and Sam Hoare are getting to grips with sculling a 1948 replica boat.
Both are athletic - Smith played football at a serious level and Hoare rowed at school - but it's evidently tough going as the boat rocks and bobs in the cold water and the bank looms once again.
"I've got blisters on my hands, legs and just everywhere - and your bum's the worst thing because those wooden seats are pretty grim," offers Smith when the pair are back on dry land, jackets wrapped over their austerity-issue outfits.
Hoare admits: "I fell in twice in training, once with Matt and once in the single - and we've fallen in twice on camera which is obviously mildly humiliating."
They are here making the BBC film Bert and Dickie, which tells the tale of the two sportsmen paired by selector, and five-times Olympic medallist, Jack Beresford in an effort to secure the first post-war gold.
Filming is taking place at the Upper Thames Rowing Club and Sir Steve Redgrave - who in 1984 won GB's first Olympic rowing gold since 1948 - drops by to coach a youngster.
He knew Bert Bushnell well and Richard Burnell to a degree. "Most rowers of my generation and older know about them but this generation doesn't," he says.
Five weeks was a short time to train but "after the war everyone was in the same situation".
"Richard always said the reason they won gold was because they shot most of their opposition in the war."
Class tension
Such wry self-deprecation is in keeping with Burnell's character, according to his daughter Zandra Houston, who was born the year after the Games.
"He was a terribly modest man. I always knew that he had won the medal, but he didn't talk about it," she says.
And while he was from a well-to-do background, she says he was not a snob: "He hated any kind of social groupings, he just wasn't like that."
Bert on the other hand felt the sting of being taken from his solo event and paired with "rowing royalty".
"He considered single sculls the ultimate sport," says his daughter Jacqueline Page.
"And when Jack Beresford said 'you're out of that because you're not going to win but there is another event you can win', my father really, really resented that - and you can understand it."
The film's writer William Ivory, who was also behind Bafta-nominated film Made in Dagenham, says he was lucky to meet Bert before he died in 2010.
"He was an amazing chap," he says. "He's one of those people you say is balanced because he had a chip on each shoulder".
"He felt he was the main man and was shunted over to accommodate the establishment figure."
Bert Bushnell himself told Janie Hampton, author of The Austerity Olympics: "There was class tension there and it came from me being bloody awkward."
This could have affected training. Matt Smith says even from the little rowing he has done, a crew cannot afford to argue.
"It's quite interesting how actually you sense the tensions in boats because you've got to be cohesive on so many things because the moment one of you isn't, it's over," he says.
"My father always said in all team sports, 'the team is the most important thing'," adds Zandra. "You have to be in tune otherwise you have a disaster."
Rationing
The pair settled their differences but had bigger problems to face.
Although the war had ended in 1945, three years later London was still a bombsite and the Treasury was bare.
Food rationing was cut to a more strict level than during the conflict, privations which were keenly felt by athletes trying to push themselves in the build-up to the Games.
"A modern rower eats 6-8,000 calories a day, they were training on 2,500 which is what British adults were allowed - that's one egg a week and a rasher of bacon," says Hampton.
Once selected for the team, this was increased to a miner's ration of 3,600 but it still fell far short of the diet of steaks, bananas and cheesecakes flown in for the US team.
"It was very important to pal up with an American," says Hampton adding that Bert Bushnell was friendly with rower Jack Kelly, even claiming to have been on a date with his film star sister Grace.
Bushnell and Burnell progressed through the early stages of the competition, eventually meeting the strongest side - the Danes - in the final.
The British pair triumphed, but Richard Burnell reported with understatement in The Times the next day: "In the double sculls, Bushnell and myself won safely from Parsner and Larsen (Denmark) with Uruguay third."
There was no podium, no flowers, no ribbon on the medal they were given.
"The band played four bars of God Save The King. We just stood on the landing stage in our socks," Bert Bushnell recalled. "Then we went home… There was no fuss and our lives weren't changed."
"He didn't really talk about it," says his daughter Jacqueline, although she adds: "He had an Olympic jumper that he used to wear occasionally with the five rings across it".
For many 1948 Olympians, it really was the taking part that mattered, says Janie Hampton.
"It was the first event since the Second World War when so many nations had come together in peace. The people I spoke to said walking into Wembley Stadium, they had tears streaming down their face.
"That's something you can't weigh because it is worth more than gold, that wonderful feeling of coming together and 'we've done it'."
Bert and Dickie is broadcast on BBC One at 8.30pm on Wednesday 25 July and will be available on iPlayer afterwards.