Booker Prize winner Barry Unsworth dies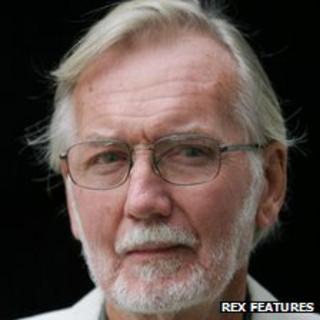 Barry Unsworth, the historical fiction author who shared the Booker Prize in 1992, has died at the age of 81.
His US agent told the New York Times he died in Perugia, Italy, of lung cancer.
The joint Booker victory of Unsworth's Sacred Hunger and Michael Ondaatje's The English Patient prompted a rule change preventing split decisions.
The Durham-born author was also shortlisted for the Booker Prize in 1980 for Pascali's Island and Morality Play in 1995.
Born in 1930, Unsworth was renowned for his extensive research.
His first novel The Partnership was published in 1966, while his most recent - The Quality of Mercy, a continuation of Sacred Hunger - came out last year.
Sacred Hunger, which dealt with the Atlantic slave trade of the 18th Century, was an example of the way Unsworth used allegorical stories set in the past to comment on the present.
Pascali's Island, his first historical novel, was turned into a film starring Sir Ben Kingsley and Charles Dance in 1988.
Morality Play became the basis of 2003's film The Reckoning, featuring Paul Bettany and Willem Dafoe.
His other novels included The Greeks Have a Word For It, Losing Nelson and The Ruby In Her Navel.
"The fascination for writing historical novels is that things were different but they were the same," he told the BBC in 2011.
"You say something that is true of the 18th Century, but at the same time you are saying something that is true of our time as well."