Fleetwood Mac stars remember Bob Welch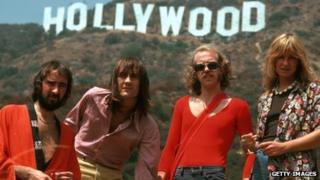 Stevie Nicks and Mick Fleetwood from Fleetwood Mac have paid tribute to Bob Welch, the band's former guitarist and singer, following his death in the US.
Nicks remembered him as "an amazing guitar player", while Fleetwood said he had been "a huge part of our history".
Welch's wife found him dead on Thursday at their home in Nashville, Tennessee.
A police spokesman said the 66-year-old had died from a self-inflicted gunshot wound and that a suicide note had been found at the house.
Welch was part of Fleetwood Mac in their early years from 1971 to 1974 and worked on such albums as Future Games and Bare Trees.
He left before Fleetwood Mac released their 1977 album Rumours and prior to Nicks and Lindsey Buckingham joining the line-up.
He went on to form hard rock group Paris and in 1977, Welch released his first solo album French Kiss. The record went platinum, spawning the hits Sentimental Lady and Ebony Eyes.
Welch fell out with his former bandmates after suing the group in 1994 for unpaid royalties, which led to his exclusion from the group's Rock and Roll Hall of Fame induction in 1998.
His death follows that of Bob Weston, another former Fleetwood Mac guitarist, who died in January at the age of 64.
"I'm so very sorry for his family and for the family of Fleetwood Mac," said Nicks in a statement.
"He was an amazing guitar player - he was funny, sweet - and he was smart."
"He was a very, very profoundly intelligent human being and always in good humour," Mick Fleetwood told the Reuters news agency.
"Mostly his legacy would be his songwriting abilities that he brought to Fleetwood Mac, which will survive all of us."