Erykah Badu angered by Flaming Lips nude video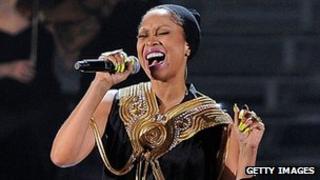 Singer Erykah Badu has said she feels "disgusted" and "violated" after rock band The Flaming Lips posted a music video showing her and her sister naked.
Badu recorded a song with the band, who asked the singer and her sister Nayrok to sit in a bath full of blood, glitter and creamy liquid for the video.
Badu said she was not shown the edited version, which she called a "tasteless, meaningless, shock motivated video".
The band apologised after releasing the explicit video without approval.
The alternative rockers teamed up with the Grammy-winning soul singer to record a version of The First Time Ever I Saw Your Face for their latest album.
The singer said she thought the concept for the accompanying video was "disturbing" but went along with it "out of respect for you and the artist you 'appear' to be".
Badu refused to sit in anything but water so asked Nayrok, "who is much more liberal", to act as a body double for the scenes featuring glitter, a blood-like liquid and a sticky white liquid made from corn starch.
After the video appeared on music websites at the weekend, however, Badu accused the band of "desperately releasing a poor excuse for shock and nudity that sends a convoluted message that passes as art (to some)".
Badu stripped naked in the video for her single Window Seat in 2010, but said The Flaming Lips' video was different because the band were out to shock and there was no "method and thought process" involved.
"You obviously have a misconception of who I am artistically," she told them in an online message .
Not consulting her about the final video was "equivalent to putting out a security camera's images of me changing in the fitting room", she said.
"As a director I am unimpressed," she added. "As a sociologist I understand your type. As your fellow artist I am uninspired. As a woman I feel violated and underestimated."
The band issued a statement saying the video on music website Pitchfork was "unedited and unapproved.. Sorry!!"
"We, the Flaming Lips, accept full responsibility for prematurely having Pitchfork post it," it continued.
"It has outraged and upset a segment of fans and we apologise if we offended any viewers!!! This is a Flaming Lips video which features Erykah Badu and her sister Nayrok and is not meant to be considered an Erykah Badu or Nayrok statement, creation, or approved version."
Lead singer Wayne Coyne later told Badu via Twitter : "You really know how to do it!!!! You hatin on me has gotten the video 100,000 more views !!!"