Ray Bradbury: President Obama leads tributes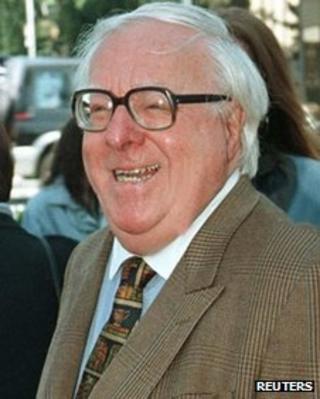 President Barack Obama has led the tributes to science-fiction author Ray Bradbury, who died on Tuesday aged 91.
The US President said: "His gift for storytelling reshaped our culture and expanded our world.
"But Ray also understood that our imaginations could be used as a tool for better understanding, a vehicle for change."
Bradbury's best-known works included Fahrenheit 451 and the Martian Chronicles.
He wrote hundreds of novels, short stories, plays and television and film scripts during his long career.
Director Stephen Spielberg cited the late author as a huge influence on his work.
"He was my muse for the better part of my sci-fi career," Spielberg said.
"He lives on through his legion of fans. In the world of science fiction and fantasy and imagination, he is immortal."
Fellow authors have also paid tribute to Bradbury.
Chocolat author Joanne Harris told the BBC : "He was the most delightful man, sweet and terribly youthful in spite of his quite advanced years.
"There is this real sense of wonder in all of his writing, and discovery. And when you look at his later work, the things he wrote in the last five years or so, it is still there."
Speaking on BBC Radio 4's Today programme, science-fiction writer Brian Aldiss said: "Ray Bradbury was not like most writers of science-fiction. He came from the country and he liked to stay in the country.
"This shows up in most of his books, The Martian Chronicles, for instance. It's a transplant of American countryside into the planet Mars. It could never happen, but the great thing is that you tell a technological fairytale.
"That was the attraction of much of what Bradbury wrote."
Stephen King told the Hollywood Reporter: "The sound I hear today is the thunder of a giant's footsteps fading away.
"But the novels and stories remain, in all their resonance and strange beauty."
Luis J Rodriguez, author of Always Running, added: "Kids still read him. They still love him. People come and go, but he's one of those writers who continually engages young people. I think his legacy is going to last for a long time."
Bradbury's publisher HarperCollins said in a statement: "In a career spanning more than seventy years, Ray Bradbury has inspired generations of readers to dream, think, and create."
Many other celebrities posted tributes on social media websites .