Radio 4 serial The Archers to get 'darker and bigger'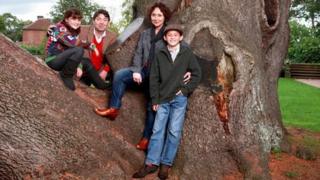 The acting editor of The Archers says the Radio 4 serial is going to become "darker and bigger".
John Yorke, who is also controller of BBC drama production, is overseeing the long-running radio soap while editor Vanessa Whitburn is on leave.
He told the Radio Times: "My thing has always been that every episode needs to have an arc and listeners should be left wanting more.
"You need a cliff-hanger to drive the story in a new direction."
One current plot has seen David and Ruth Archer receiving violent phone threats, the type of dramatic storyline that Yorke said can only be done occasionally.
"There's definitely more to come on that story. It's going to get darker and bigger.
"But you can only afford to do something like this about once a year. Otherwise it would get implausible. The strength of The Archers is in its detail. The seasonal rhythms of agriculture, the floral competitions - those things are vital."
He added: "You have to put your characters in jeopardy because it makes you love them more."
Yorke has previously been the executive producer of EastEnders, but said that while there are similarities between the two programmes, he doesn't have any plans to change the format of the Radio 4 drama.
"The fundamentals of character and storyline being vital is the same. But The Archers moves at a slower pace than EastEnders, which is absolutely right," he said.
"It's an extraordinarily important programme to a lot of people and you don't want to break it."
He says he is keen for The Archers, which is the longest-running radio serial in the world, to reach its full potential.
"It needs to follow the rhythms of everyday life, but you have to balance that against the demands of drama that things happen.
"I want it to feel like The Archers, but be as good as it can be."