Poet laureate Carol Ann Duffy Jubilee poems go online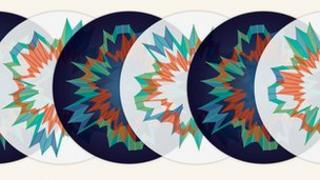 A collection of 60 poems marking 60 years of the Queen's reign compiled by Carol Ann Duffy have been put online for a new multimedia project.
The poet laureate's Jubilee Lines anthology comprises works by 60 contemporary poets, each inspired by an event of the past seven decades.
The project at The Space features recordings of the poems and pictures and archive video from the year.
Roger McGough and Andrew Motion are some of the poets who have taken part.
Others who have also made contributions include Simon Armitage, Wendy Cope, Jo Shapcott and Duffy herself.
Downton Abbey's Dan Stevens and James Bond star Samantha Bond are two of the four actors who have recorded their interpretations of the poems.
Each poem is accompanied by a design of the frequency and decibel levels of the sound when it is read out loud.
Twenty of the works have also been enhanced with stills and film footage from the BBC archive, marking significant events which occurred during those years.
The online project has been commissioned by The Space, the free digital arts portal created in partnership between the BBC and Arts Council.
"I cannot think of a more exciting juxtaposition of forms with which to celebrate Her Majesty's Jubilee," Duffy said.