British children 'turn to American English'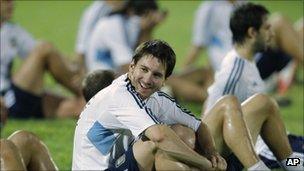 British children are increasingly using American English in their writing, according to a report based on entries to a BBC short story competition.
Oxford University Press studied around 74,000 entries for Radio 2's 500 Words contest.
Americanisms such as cupcake, garbage truck, trash can, candy, sidewalk and soda were found in many of the entries.
Famous people such as Justin Bieber, Prince William and Radio 2's Chris Evans made repeated appearances.
Children's writer Dame Jacqueline Wilson, singer Jessie J and the footballers Lionel Messi and Wayne Rooney also featured prominently.
Books proved to be a big influence on participants. Many stories included mythical creatures such as the basilisk and hippogriff (recently popularised by JK Rowling's Harry Potter books), JRR Tolkien's orcs and Lewis Carroll's bandersnatch.
Technology also had a big influence, with popular words including Google and app (short for application).
So-called "text speak" only featured when the story included an imagined text message, demonstrating that children are aware when it is not appropriate to use it.
Doors, the most used common noun, was included 67,783 times, while the most common names used in the stories were Lucy and Jack.
The six winners of the competition will be announced on Chris Evans's breakfast show during a live broadcast from the Hay Festival on Friday.
David Walliams, Charlie Higson, Lauren Child and Andy Stanton join Dame Jacqueline on the all-author judging panel.
"These results are absolutely fascinating," said Evans.
"It's given us a truly unique insight into how children think and the language they use."
"At a microscopic level, children's use of language is robust and imaginative," said children's author Stanton.
"They know the value of a well-chosen word and the power of an original image."
More girls than boys entered the competition, which was open to two categories - those aged nine years and under and those aged from 10 to 13.
Related Internet Links
The BBC is not responsible for the content of external sites.