Globe Theatre: Israeli play goes on despite protests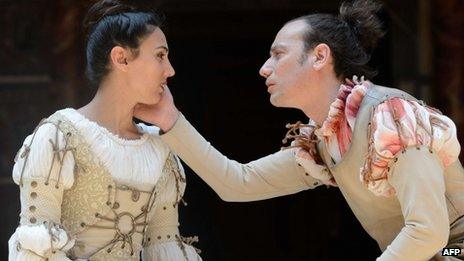 Pro-Palestinian activists have disrupted the UK debut of Israel's Habima theatre company in London.
Around 15 people were carried or led out of Shakespeare's Globe theatre after unfurling banners or Palestinian flags. One man was arrested.
Before the performance of The Merchant of Venice, Globe artistic director Dominic Dromgoole asked the audience to stay calm in the event of disturbances.
The actual performance carried on despite the disruptions.
The protests came after a group of stage figures including Mark Rylance, Mike Leigh and Emma Thompson called for the Globe to boycott the company over its performances in Israeli settlements in the West Bank.
In a letter to The Guardian , they said Habima had "a shameful record of involvement with illegal Israeli settlements in Occupied Palestinian Territory".
Shakespeare's Globe said its current international festival was "a celebration of languages and not… a celebration of nations and states".
It added that "people meeting and talking and exchanging views is preferable to isolation and silence".
Security was stepped up ahead of Monday's show, with airport-style metal detectors in the foyer and audience members' bags searched.
There were small-scale demonstrations outside the Globe by both pro-Palestinian and pro-Israeli groups.
As the performance was about to begin on the open-air stage, Dromgoole addressed the audience and joked about the unusual security arrangements.
"If there are disturbances, let's be perfectly calm," he went on. "Don't get angry.
"You're not watching politicians or policy-makers. You are watching artists who are here to tell a story."
About 10 minutes into the play, a banner reading "Israel Apartheid leave the stage" was unfurled from the first-floor balcony accompanied by several Palestinian flags.
Other protesters showed peace signs or stood up with tape over their mouths.
More banners and flags were unfurled on two more occasions before the interval.
As the protesters were removed, some shouted "Free Palestine!"
After the interval, a man standing in front of the stage was ejected after shouting: "Hath a Palestinian not eyes?" in a twist on Shylock's famous speech.
One protester, Zoe Mars, said: "We tried non-violently to convey the message that culture may not be used to give a civilised gloss to a state that perpetrates human rights abuses."
A Metropolitan police spokesman said a man was arrested on suspicion of assaulting a security guard outside the theatre.
Another performance of the Hebrew-language production is due to take place on Tuesday. The play is part of the Globe to Globe festival, which sees all of Shakespeare's plays performed in 37 different languages over six weeks.
Ilan Ronen, Habima's artistic director, told the BBC: "I think it is important for Israeli theatre in general to be part of international activities.
"We are very much involved in the last three years in a lot of collaborations with the leading theatres in Berlin, Moscow and other places. This is the reason we were so happy to be invited to this festival.
"I think politically it's an important festival. This is a way for artists to meet each other and have a better dialogue and be helpful, maybe, to our politicians, to make the world better."
Founded in Moscow in 1913, Habima settled in Tel Aviv in the late 1920s. Since 1958 it has been recognised as the National Theatre of Israel.
About 500,000 Jews live in more than 100 settlements built since Israel's 1967 occupation of the West Bank and East Jerusalem. The settlements are considered illegal under international law, though Israel disputes this.
Related Internet Links
The BBC is not responsible for the content of external sites.