Phillip Phillips crowned American Idol winner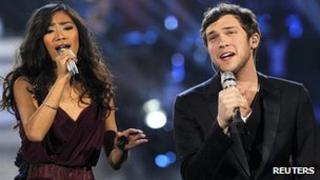 Guitar player and singer Phillip Phillips has won this year's American Idol, with viewers casting a record 132 million votes.
Phillips, 21, a shop worker from Leesburg, Georgia, was overcome with emotion as he ended the show with his first single, Home.
He beat 16-year-old Jessica Sanchez, from San Diego, California, into second place.
The contest remains one of the most watched shows on US television.
"All the fans out there, thank y'all for voting for us," Phillips said before host Ryan Seacrest announced the result.
Phillips is the fifth consecutive male American Idol winner, since Jordin Sparks won the contest in 2007.
The two-hour finale featured a host of guest stars including Rihanna, Neil Diamond, Reba McEntire, Chaka Khan and John Fogarty.
Judges Steven Tyler, with his band Aerosmith, and Jennifer Lopez also performed.
Viewing figures released on Thursday showed the programme brought in its lowest audience for a finale in its 11-year history with 21.5 million Americans tuning in.
Although it was still the most watched show on the night, audiences fell by about 32% compared to last year.
At its peak, more than 30 million Americans watched the show's finale in 2006 and 2007.