Stone Roses reunion gig hailed by fans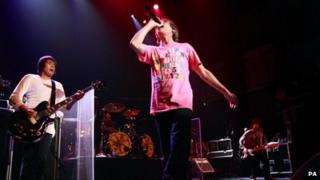 Seminal indie band The Stone Roses have played their first reunion gig to an ecstatic reception from fans.
The four-piece played a surprise show for around 1,000 people at Parr Hall in Warrington, Cheshire.
"They've never played so well together," said 43-year-old Andrew Rudder, from Ashton under Lyne.
But opinion was mixed over the quality of singer Ian Brown's voice. "He can't sing but he never could," said Tom Six, 35, from Liverpool.
Brown's famously shambolic vocal performances before the group split up in 1996 have gone down in band legend.
"It sounded a little bit hoarse and croaky but it was all right," Mr Six added. "It was the Roses how I remember them."
Dennis Warriner, a 50-year-old supermarket manager from York, said: "It started off a bit ropey but it got better without a doubt."
Another fan, Warrington local government official Paul Blaney, said: "I've seen Ian Brown four or five times. The guy was on fire. It was amazing. The musicality blew me away. They played the classics and a few B sides."
The hour-long, 11-song set began with I Wanna Be Adored and also included favourites from their landmark 1989 debut album, including Made Of Stone, Waterfall and She Bangs The Drums. But they did not unveil any new material.
It was the first time Brown, guitarist John Squire, bassist Gary "Mani" Mounfield and drummer Alan "Reni" Wren had played live together since 1990.
Oasis star Liam Gallagher was among those in the crowd.
The gig was announced only at 16:00 BST on Wednesday and tickets were available to fans who turned up at the venue with a Stone Roses CD, LP or T-shirt.
Michelle McKay, a New Zealander living in Liverpool, said she had heard about the show on Twitter and got straight on the bus.
"I got here a little bit late for the wristbands but I was very lucky, a guy who I've never met before managed to slip me a wristband so I got in," she said.
"I was in about the third row back and everyone was singing along. It almost drowned out the band. She Bangs The Drums was the highlight for most people.
"I've never seen a band all hug each other at the end like that. There was a lot of love in the room."
The band's first comeback show had been scheduled for Barcelona on 8 June. They were not due to perform in the UK until the end of June, when 225,000 people are expected to watch three shows at Heaton Park in Manchester.
They will also perform at a number of UK festivals and embark on a world tour.
Set list
I Wanna Be Adored
Mersey Paradise
Sally Cinnamon
Made Of Stone
(Song For My) Sugar Spun Sister
Where Angels Play
Shoot You Down
Tightrope
Waterfall
She Bangs The Drums
Love Spreads