Stone Roses film 'has band's blessing'
By Kev Geoghegan
Entertainment reporter, BBC News, in Cannes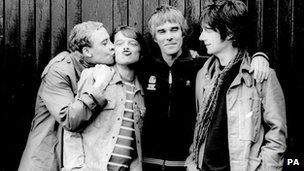 The Stone Roses have given their blessing to a new film set against the backdrop of their legendary 1990 gig at Spike Island, its writer has said.
The film is part of a slate of projects announced by BBC Films in Cannes.
It tells the story of a gang of young teenagers who try to get to the concert without tickets and features extensive use of the band's music.
Writer Chris Coghill told the BBC: "Mani, the bass player and Ian Brown said, 'Whatever we can do to help.'"
He added: "Essentially, it's my love letter to the Stone Roses and being 16 years old in 1990 in Manchester. There's a little bit of me in all the boys."
The Stone Roses' outdoor concert at Spike Island in Widnes, Cheshire, on 27 May 1990 was attended by around 27,000 people.
Although it was badly organised by today's standards and there were complaints about the poor sound quality, it has since become something of a legendary event.
"I never went to Spike Island," Coghill admitted. "I got let down with a ticket the day before, which is what happens to the lads in the film.
"But I just sat on my mum's sofa all day in a mood, whereas these lads go and try to blag their way in."
The film stars Shameless actor Elliott Tittensor, Game of Thrones' Emelia Clarke and actress Lesley Manville.
"It's a coming of age story, all the lads have issues that they're dealing with. It's set over three days and they're all running away from things," said Coghill.
The trailer, which was shown to journalists in Cannes, is accompanied by several tracks from The Stone Roses' debut album.
Former EastEnders actor Coghill said the band jumped at the chance to have their music used in the film.
"I'm mates with Mani and I know Ian a bit, and when we first started talking about it, I emailed them both an outline of what we wanted to do and they said, 'You have our support, you have our blessing, whatever you need.'"
The Stone Roses are due to reform for a world tour this summer, and Coghill said he hoped to have the film ready by November.
He also said the band "have at least three or four new tracks recorded".
Other BBC films unveiled in Cannes include Shadow Dancer, in which Andrea Riseborough plays an IRA informant, and Now Is Good, in which former child actress Dakota Fanning plays a determined teenager living in the shadow of a terminal illness.
Related Internet Links
The BBC is not responsible for the content of external sites.