Scissor Sisters: 'Albums are a waste of songs'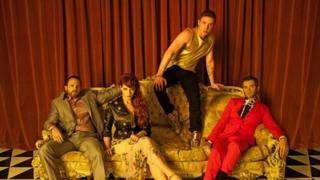 Flamboyant New York pop group Scissor Sisters, famous for songs like Take Your Mama Out and Laura, are about to release their fourth album, Magic Hour. But, they tell the BBC, they're worried that some of the songs will never be heard.
"I just did The Voice with my fly unzipped!"
Scissor Sisters frontman Jake Shears is reliving the moment when, at the end of the band's performance on BBC One, he "looked down and noticed my trousers were wide open".
It was the one misstep in a week that saw the band's latest single, Only the Horses, enter the Top 10 and a fan propose to his girlfriend during the first of two sold-out shows at London's Shepherd's Bush Empire.
"We had no expectations for this campaign, so I'm thrilled," Shears says.
The singer is also looking forward to playing the Tower of London as part of the London 2012 Festival in July.
"I'd love to appear as a corpse, with my head tucked under my arm," says Shears. "But Lady Gaga's probably done that already."
The band are clearly in high spirits as Shears and his band-mate Baby Daddy (Scott Hoffman) discuss their place in pop, getting advice from their parents and the fear that no one listens to their album tracks.
Your last album, Night Work, felt like a recalibration of the Scissor Sisters sound. How did you approach recording Magic Hour?
Jake: A year ago, I went into production on my musical [an adaptation of Armistead Maupin's Tales of the City] and I was exhausted. I was thinking, "How the hell are we going to make another album?"
My strategy was not to worry about it and go into the studio and have fun, and not care so much.
Yet there's a thread of melancholy running through some of the new songs.
Jake: It's always been there, in songs like Mary or Return to Oz. I'd say there's a wistfulness to this album. Even the moody songs have a very uplifting aspect.
Baby Daddy: What I've noticed from our interviews for this album is that it's a complete Rorschach test. Everyone is telling me a different interpretation. The interview before you said: "This album is so much fun."
Jake: One of the worst reviews we ever got was for our first album. It was one star. But I loved what they said about it. They said: "It's a confusing board game of an album." I was so happy with that. I hope this record is a confusing board game of an album.
Where did the title come from?
Jake: Do you know what? This album was almost called Scissor Sisters 4. We literally changed the title 20 minutes before. We had no clue.
Baby Daddy: It kind of came from Jake's mom, actually.
Jake: It did! My mom was with me down in my house in Tennessee. I was really frustrated, so she took two of my friends, went in her car, had the CD on and took a pen. They went through the whole album and wrote down any possible title.
Baby Daddy: Then there was one of those conversations with me and Jake on the phone and he's constantly breaking off, "Hey mom, what do you think of this one? Help us out here!" Every two minutes, feedback from Freda.
Towards the end of the album there's a really moving ballad called The Secret Life of Letters. Who was that written for?
Jake: That was actually written for myself! It's about writer's block. It can be torturous and awful if you end up with nothing to say.
If you listen to the lyrics, for instance, there's one that says: "I feel like passing this phrase", because I didn't even know what the next line could be. So that's what that song is about: Where have the words gone?
Baby Daddy: And that's probably why it's so emotional. It's something that's really affected him.
Jake: It's terrifying.
Best in Me is has the lyric: "You may not hear this on MTV/No big deal. Fine by me." Is that a bit of a dig?
Jake: It's just the truth.
Baby Daddy: We're not played on MTV, at least in America.
Jake: But as the lyric says, it doesn't matter so much to me any more. I'm happy.
Baby Daddy: We understand our place.
Jake: I think we've put our own notch in the wall. We occupy our own space, which was always the goal. I don't think, at this point, anyone can really penetrate it.
The accepted wisdom is that Night Work wasn't as successful as you had hoped. But the album seems to be a favourite with a lot of Scissor Sisters' fans.
Jake: I hear that all the time. It just depends on what you measure success by.
Baby Daddy: Night Work came out at a time when sales figures dropped through the floor, for everyone.
Jake: The music industry is collapsing all around us.
So if you can't sell millions of albums, how do you make a living?
Jake: It's something everyone is trying to figure out. Your songs hopefully get played somewhere, whether it's radio, or you get put on a TV show, or you're touring.
Baby Daddy: People are more open to sponsorships as well.
Jake: There's no such thing as selling out any more. Anybody will do anything. There are things that we would never have considered before.
Will you go play on a talent show on TV? Absolutely not. Whereas now you're like, "Oh my god, thank you."
How do you think this album will sell?
Jake: I keep wondering whether people even listen to albums any more. Certainly not as much.
Putting out an album feels a little bit like you're wasting songs. The interesting thing about this campaign is we put out Shady Love just to surprise people. Didn't tell anyone we were going to do it. Threw it up on the internet. And then we've eked out songs. Every few weeks there's something new.
I'm really happy doing it that way because it presents the album as a whole. To give people the idea that we're not just coming out with this single that's going to be driven down your throat. I almost wish I could do it with the whole record.
Baby Daddy: This is terrible, but we're doing an album signing in HMV and we actually said, "This will be the last physical album signing we'll ever do."
Magic Hour is released by Polydor on 28 May. Scissor Sisters were talking to BBC entertainment reporter Mark Savage.