President Obama leads Donna Summer tributes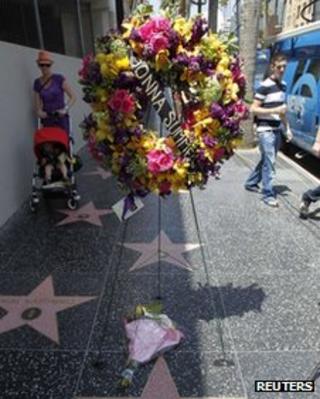 President Obama has joined a host of showbusiness luminaries in paying tribute to Donna Summer, following the disco star's death at the age of 63.
"Her voice was unforgettable," said the US leader. "The music industry has lost a legend far too soon."
Singer Barbra Streisand, who duetted with Summer on the 1979 hit No More Tears (Enough Is Enough), said she was "shocked" to hear of her passing.
Dolly Parton, Dionne Warwick and Sir Elton John have also paid homage.
Summer, whose hit records included I Feel Love, Love To Love You Baby and State of Independence, is understood to have been fighting lung cancer.
In a statement released on Thursday, her family said they were "at peace celebrating her extraordinary life and her continued legacy".
At the Hollywood Walk of Fame in Los Angeles, fans gathered to lay flowers in tribute to her life and career.
Born LaDonna Adrian Gaines in Boston in 1948, Summer began singing in church, before fronting a series of bands and appearing in stage musicals, at home and abroad.
"There was no question I would be a singer, I just always knew," she said in 1989.
"I had credit in my neighbourhood. People would lend me money and tell me to pay it back when I got famous."
Working as a session singer brought her into contact with producers Giorgio Moroder and Pete Bellotte, who established her as one of the biggest acts of the 1970s.
Moroder told BBC Radio 5 live she would be remembered "for her incredible voice and talent" and that her song I Feel Love "was really the start of electronic dance".
"I can't believe we've lost another wonderful singer," wrote Parton on her website, likening Summer's passing to the recent death of singer Whitney Houston.
"She was the disco queen, and will remain so. I knew her and found her to be one of the most likable and fun people ever."
On Twitter, R&B singer Mary J Blige said Summer was "truly a game changer". Producer Quincy Jones, meanwhile, said her voice "was the heartbeat and soundtrack of a decade".
Pop star Kylie Minogue saluted her as "one of my earliest musical inspirations", while Sir Elton John said "her records sound as good today as they ever did".
"RIP Donna Summer, Queen of Disco!" tweeted chart-topping singer Rihanna, sentiments echoed by Michelle Williams and Kelly Rowland of Destiny's Child.
"Icon! Legend! Her voice! Her spirit!" wrote Rowland. "Rest In peace, you truly inspired me."
In her own statement, Dionne Warwick said she was sad to lose a "dear friend". "My heart goes out to her husband and her children," she went on.
Summer had been living in Naples, Florida with her husband Bruce Sudano. She is survived by their daughters Brooklyn and Amanda and by Mimi, her daughter from her first marriage.