Jane Lovering honoured with romantic novel award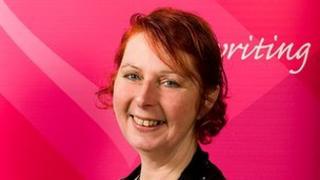 Author Jane Lovering has won Romantic Novel of the Year for her novel Please Don't Stop The Music.
"Jane's voice was fresh and new with an unexpected hero", a panel of judges, including WH Smith's Matt Bates and The Bookseller's Sarah Broadhurst, said.
Lovering's Please Don't Stop the Music triumphed over nominations from better known authors such as Katie Fforde and two-time winner Rosie Thomas.
The award, which recognises excellence in romantic novels, began in 1960.
Lovering received her prize from news anchor Kay Burley at the annual ceremony in London on Thursday.
'Narrow choice'
The winner was chosen from a shortlist compiled of category winners from the Romantic Novelists' Association's annual RONA awards, which took place earlier this year.
Judges said it was "a narrow choice" between Lovering - winner of the Romantic Comedy Novel award - and Thomas's The Kashmir Shawl, winner of the Epic Romantic Novel award.
Ultimately, Please Don't Stop the Music was singled out by judges for its "dark undertones" - adding "it engaged with issues a lot of people recognise".
Chairman of the Romantic Novelists' Association, Anne Ashurst, said: "Warmest congratulations to Jane and my personal thanks for making me hoot with laughter.
"A great read and well-deserved success."
Lovering lives in Kirkbymoorside in Yorkshire with her five children, and works part-time as a science technician in a school.
She joins a roster of winners including 2011 winner Jojo Moyes, Julia Gregson, Freya North and Philippa Gregory.