Rodin Museum re-opens after three years of work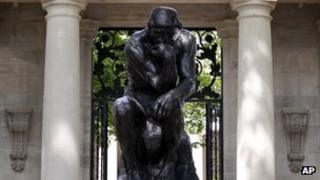 The Rodin Museum in Philadelphia is re-opening after a series of renovations.
It is home to the largest collection of sculptures by the French artist outside Paris.
The museum has undergone interior and exterior work over the past three years and will be open to the public on 13 July.
The revitalisation project was aimed at cleaning the pollution and grime that had built up since the institution first opened in 1929.
Auguste Rodin was still making works in the early 1900s before his death in 1917.
His major pieces, including The Thinker, The Gates of Hell and The Burghers of Calais, have since been re-installed into the Rodin Museum.
The gallery was founded by entrepreneur and art collector Jules Mastbaum.