Simon Cowell 'puzzled' by The Voice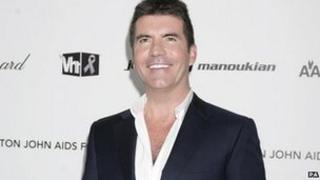 The X Factor's Simon Cowell says he is "puzzled" about why BBC One's The Voice is not on the radio instead of TV.
Cowell told BBC Radio 4's Today programme that if the BBC's show was "all about the voice" then "what's the point of looking at them?"
He also said it had become similar to The X Factor with its use of dancers and stage presentation.
The Voice's creation was a "roll your sleeves up" time for him, because it was competition for his shows, he said.
Cowell, who described himself as "lucky, hard-working and weird", said: "Suddenly I'm watching it a week, two weeks ago. It's the same as X Factor.
"You know, they've got dancers behind them. They've got graphics, lights. Same show."
'Punch-up'
Early on the success of The Voice - which is reported to have cost the BBC some £22m - in a ratings battle with Britain's Got Talent led to Cowell writing a congratulatory message to the BBC on Twitter.
But early in May, Britain's Got Talent triumphed in the ratings for two consecutive weeks.
He said: "When The Voice came along it's kind of like, 'roll your sleeves up, we're in for a bit of a punch-up here'.
"I'm smiling now because we're winning at the moment. I wasn't so happy three weeks ago. But not to the point of any silliness."
He said his attitude in response to the competition was: "OK. They are beating us. We've got to make our shows better.
"And that's all we did. We just tried our best to make them better."
As to the allegation that his shows were like circuses which sought to exploit vulnerable people, Cowell told Today's James Naughtie: "I think what I've learned is, there are people who like to show off who aren't very good and I don't have a problem with that.
'Getting nervous'
"I think after Susan Boyle you can feel it around you on the show. Everyone is very, very, very more aware of whether this person is up for this or not. If we don't think they're tough enough they really aren't allowed to audition.
"But people do get through the net. But we don't sit there and go, 'let's try and find someone vulnerable and weak to exploit today to make fun of them.'
"You've got to also try to retain a balance and a sense of humour."
Mr Cowell, who says he sees "a lot of shows trying to rip us off", was then asked about his own future.
"I'll know when it's time A, for me to leave the shows or B, not to make these shows anymore, simply because people won't be interested," he said.
"I'm not going to self-destruct."
And he was bullish about the success of his programmes, which also include American Idol.
"I'd like to know what is the alternative to what we put on at the moment as an entertainment show."
Yet Cowell did say that he had previously worried about the future of his shows when they had failed to find credible acts.
He said: "We had this conversation about two or three years ago where, with the exception of Leona Lewis, I was getting nervous.
"I thought, if we don't find real stars from these shows after all the razzmatazz, all the promises, all the hype and you end with somebody who's going to put out a single and then go away it's a waste of time, a waste of my time and everyone's time."
Mark Linsey, the BBC's controller of entertainment commissioning, has previously said: "I think other formats it's about the look, the shape of the person."
With regards to The Voice, he continued, "it's about whether you've got what it takes vocally."