Cannes Film Festival to open amid 'sexism' row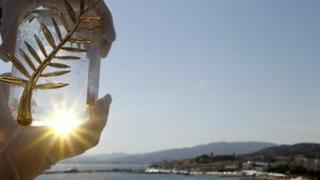 The Cannes Film Festival opens later with US director Wes Anderson's film Moonrise Kingdom.
His movie, which stars Bill Murray, is one of the 22 movies selected to compete for the festival's biggest prize, the Palme d'Or.
However, the celebrations have been marred by criticism that no female directors will be in competition.
The only woman to have won the prestigious award was Jane Campion in 1993, with The Piano.
The festival is set to see a fair share of big Hollywood names arriving in town - including Moonrise Kingdom stars Murray, Edward Norton, Bruce Willis and Tilda Swinton.
"It's a really fine script," said Murray, who also appeared in Anderson's The Darjeeling Limited.
"There is an electricity that moves through it," he added.
The film tells the story of two 12-year-olds who fall in love before making a secret pact and running away together.
Set in New England in 1965 it sees Willis playing the local sheriff and Murray appearing alongside Frances McDormand as the young girl's parents.
Stars such as Twilight actors Robert Pattinson and Kristen Stewart will go head-to-head for the prestigious prize with their films Cosmopolis and On The Road.
Also competing is The Paper Boy, which stars John Cusack, Zac Efron and Nicole Kidman; and Killing Them Softly, starring Brad Pitt.
Pitt and his fiancee Angelina Jolie are both expected on the red carpet this year.
This year's Palme d'Or judges are led by Italian Nanni Moretti and include Britain's Ewan McGregor and Andrea Arnold, acclaimed for directing the 2009 film Fish Tank.
The panel also includes actress Diane Kruger and fashion designer Jean Paul Gaultier.
The sexism row broke out after a group of prominent female filmmakers wrote an open letter to the French newspaper Le Monde criticising the lack of women being showcased.
Ripe with sarcasm, the letter was signed by directors Fanny Cottencon and Virginie Despentes - who made the sexually explicit Baise Moi in 2000 - among others.
It said: "Men love their women to have depth, but only when it comes to their cleavages.
"All 22 films in the official selection were written, happy coincidence, by 22 men."
However, festival director Thierry Fremaux has supported the longlist of nominees, insisting the judges "would never select a film that doesn't deserve it just because it is directed by a woman".
Also in competition this year is Ken Loach with his Glasgow-set comedy-drama The Angel's Share.
He has been nominated 11 times, last winning the Palme d'Or in 2006 for the IRA drama The Wind That Shakes The Barley.
Past winners Michael Haneke and Jacque Audiard - who won the jury's Grand Prize for his film A Prophet in 2009 - are also in the running.
Canadian David Cronenberg is in competition with his film Cosmopolis, starring actor Pattinson, while Cronenberg's son Brendan is competing in the Un Certain Regard category - which awards new talent - with his film Antiviral.
Two female film-makers join him in that category: France's Catherine Corsini and Sylvie Verheyde.