Chris Moyles to play Herod in Jesus Christ Superstar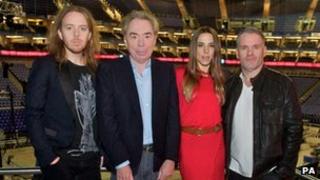 Radio 1's Chris Moyles is to play Herod in a UK tour of Andrew Lloyd Webber musical Jesus Christ Superstar.
The breakfast show host is cast alongside former Spice Girl Mel C and Tim Minchin in the stadium tour which starts in September.
"To receive a phonecall from Andrew (Lloyd Webber) is very cool but then when he asks you to be in his musical, that's pretty amazing," said Moyles.
Lord Lloyd Webber is looking for the lead through a new ITV1 talent show.
Mel C, along with Jason Donovan, will help Lord Lloyd Webber choose a winner during the final auditions stage.
There will be 11 performances in all, kicking off in London at the O2 on 21 September.
Other cities the show will visit include Glasgow, Newcastle, Manchester, Cardiff, Belfast and Dublin.
It is thought Moyles will fit the tour in around his Radio One schedule.
A spokesman for trade paper Radio Today said he did not envision Moyles giving up his show, and the salary that goes with it, for the Herod role.
"He has done his radio show from the regions before so he could broadcast from local stations again," he said.
Mel C, whose real name is Melanie Chisholm, will play Mary Magdalene, while comedian and musician Minchin will take the part of Judas Iscariot.
The singer, who starred in Blood Brothers in the West End, said taking on the role of Mary Magdalene "has to be one of my most exciting challenges to date".