Hebrew novel wins fiction prize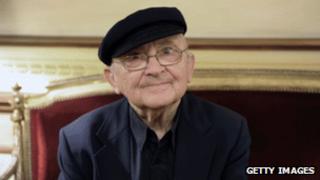 Holocaust survivor Aharon Appelfeld has become the oldest recipient of the Independent Foreign Fiction Prize at the age of 80.
The Israeli author's Blooms of Darkness was inspired by his own escape from a concentration camp during World War II.
It tells the story of an 11-year old boy who is looked after by a prostitute during the war.
Appelfeld beat five other authors including Umberto Eco to the £10,000 prize, shared by his translator.
The novel was translated from Hebrew into English by Jeffrey M Green.
"It has been a privilege to be Aharon's voice in English," Green said.
Journalist Hephzibah Anderson, who was one of the judges, said: "Jeffrey M Green's translation from the Hebrew does ample justice to a novel that mediates on the imagination, memory and language itself."
Appelfeld described his novel as "a work of fiction that includes my personal experience during World War II".
"I wanted to explore the darkest places of human behaviour and to show that even there, generosity and love can survive; that humanity and love can overcome cruelty and brutality," he added.
Anderson described Appelfeld's story as one which carries "the reader to a territory in which deep sensuality exists alongside unfathomable brutality".
Appelfeld was born in 1932 in what is now western Ukraine but was deported to a labour camp when he was seven.
He escaped and was picked up by the Red Army in 1944, making his way to Italy before eventually reaching Palestine in 1946 when he was 14.
While Appelfeld grew up speaking German, he could not bring himself to write in the language, citing it as "the language of the murderers".
Instead, he chooses to write in what he describes as his "mother language" of Hebrew, which he learned to speak when he moved to Palestine.
The Independent Foreign Fiction Prize is run by the charity Booktrust, and is awarded annually to the best work of contemporary fiction that has been translated into English and published in the UK.