Chris Hemsworth: From Snow White and the Huntsman to James Hunt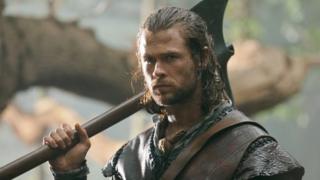 Hollywood hot property Chris Hemsworth plays a reluctant hero in Snow White and the Huntsman. Next up he is taking on the role of British Formula One racing hero James Hunt.
At 6ft 3in tall and built like an Olympic hammer thrower, it is little surprise that Australian actor Chris Hemsworth made his name playing Thor.
After playing the Marvel superhero in Kenneth Branagh's Thor last year, he reprised the role in Avengers Assemble, which has taken more than $1bn (£640m) at the global box office.
Next up on Hemsworth's CV is Snow White and the Huntsman, from first-time movie director Rupert Sanders, which explores the darker side of the Brothers Grimm fairytale.
Disney's classic cartoon Snow White it is not. For a start it has eight dwarves.
"It has a vast medieval feel," says Hemsworth, when we meet in London ahead of the film's world premiere.
"It's much darker and edgier than the cartoon Snow White, it's more Lord of the Rings or Gladiator."
Hemsworth plays the titular huntsman tasked with capturing Snow White, played by Twilight's Kristen Stewart. Charlize Theron is the evil queen muttering "Mirror, mirror on the wall."
Eric, as Hemsworth's Huntsman is called, is first seen in a drunken street brawl.
"I loved that Western feel," admits Hemsworth. "He's a classic, dirty-round-the-edges Indiana Jones type - but there's a heart of gold in there. I liked the journey he had to rediscover himself."
Instead of killing Snow White as ordered, The Huntsman tutors Snow White in the art of war - to the extent that Kristen Stewart ends the movie in armour looking like Joan of Arc.
"There's a yin and yang thing that goes on between them," says Hemsworth.
"She starts to sober him up and relight the fire in him, and he tells her she needs to get equipped to fight and teaches her a couple of tricks. They balance each other out."
Hemsworth made his US film debut in JJ Abrams's Star Trek, playing George Kirk, father of Chris Pine's James T Kirk.
As well as this year's Avengers movie, April saw him on screen in the Joss Whedon-scripted horror The Cabin in the Woods.
In the Avengers he's part of the fourth most successful film of all time.
"I didn't plan it to come about and end up at this point," admits Hemsworth on his extraordinary rise. "It's all collided at once and it's all working out. There's no formula to it."
He adds: "Beyond here I've got to choose things for the right reasons and feel like there's something I can learn, and work with great people."
Hemsworth's next project, Ron Howard's drama Rush, in which he plays British Formula 1 driver James Hunt, would appear to tick all those boxes.
Rush, written by The Queen's Peter Morgan, is a big-screen re-creation of the 1970s rivalry between James Hunt and Niki Lauda, who is played by Inglourious Basterds actor Daniel Bruhl.
Howard has described Lauda and Hunt as "complicated, fascinating men" and "rock stars of the race track".
"Their rivalry on and off the track was far more stunning and entertaining than any fiction we could have come up with," says Hemsworth.
"Formula 1 in the 70s was colourful and passionate, and James had that visceral animalistic approach to life and the track.
"It was so much fun to be part of that, but intimidating too, as he was such an iconic Englishman."
Snow White and the Huntsman is out in the UK on 30 May.