Claudio Abbado awarded classical honour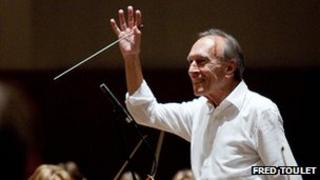 Conductor Claudio Abbado and pianist Maurizio Pollini were among the winners at this year's Royal Philharmonic Society (RPS) Music Awards.
Abbado was presented with the conductor prize for his concerts with the Lucerne Festival Orchestra at the Royal Festival Hall last year.
Pollini picked up the instrumentalist award for his Pollini Project, also held at the London venue.
The awards celebrate the best achievements in live classical music.
The RPS praised Abbado, saying each of his concerts was "a performance of indelible, life-changing moment".
"His extraordinary, revelatory concerts with the Lucerne Festival Orchestra... changed perceptions, and raised the bar once again on what it is possible for a group of musicians to achieve."
The London ceremony also saw pianist Dame Mitsuko Uchida presented with the RPS Gold Medal - one of classical music's highest honours.
Created in 1870 to mark the centenary of Beethoven's birth, previous recipients have included Brahms, Elgar, Stravinsky, Britten and Bernstein.
Other winners included Jonathan Harvey and Sally Beamish, who picked up composer awards, tenor Toby Spence, who won the singer award, and cellist Oliver Coates who was awarded the young artist prize.
East London's Spitalfields Music was the only double award winner on the night, winning the learning and participation award and the audiences and engagement for its Buy One, Donate One ticket scheme.
The National Youth Choir of Scotland also triumphed in the ensemble category, and the Aldeburgh Festival won the award for concert series and festivals.
While BBC Radio 3 won the award for Creative Communication for its year-long series on composers, Hear and Now Fifty.
A special programme devoted to the awards will be broadcast on BBC Radio 3 at 14:00 BST on Sunday 13 May.