Beastie Boys' Adam Yauch: Your memories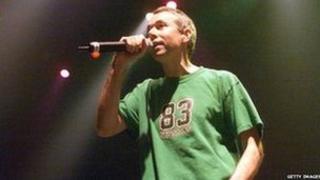 Beastie Boys rapper Adam Yauch has died at the age of 47, after a three-year battle with cancer.
Under the alias MCA, he formed part of the band that eventually became the Beastie Boys, selling 40 million albums worldwide with Mike D and Ad Roc.
Here, you share your memories of the musician, director and Tibet activist.
Eric Shimelonis, New York, US
Adam Yauch of the Beastie Boys was my first celebrity encounter when I moved to New York City in 1998. He was in front of me in line at the House of Rare Records on Carmine Street; well hardly a line - just he and I in this small shop chatting with the shopkeeper.
I didn't know who he was for most of this encounter - he was just a cool guy buying up tons of classic 45s. He was quiet, modest, and polite.
After explaining how he was buying these for a friend's birthday, he said he was in a band, and that they had been together for a long time. When the shopkeeper asked what the band was called, he answered "The Beastie Boys" like perhaps we had never heard of them. I was floored.
I tried to calmly express my appreciation for him and his music, and he bowed his head and thanked me for the kind words. This meeting solidified what was already a deep and long term admiration.
His death comes as a great shock, and losing one of the Beasties weighs heavier on me than I ever could have imagined.
Dennis Gedling, Perth, Australia
I started a website and used the name Sir Stewart Wallace (a name used by Yauch in the Sabotage music video) as a pseudonym.
He emailed me to point out I had breached copyright law, but added he'd forgive me and not take it any further - if I sent him a carton of Australia's most premium beer which I did.
People go on about Paul's Boutique being their landmark album but when I was an angry lost teenager Check Yo Head and Ill Communication spoke to me.
I am truly heartbroken that such a talented and noble artist has died. RIP MCA aka Adam aka Nathanial Hornblower aka Sir Stewart Wallace.
Ian Bamer, Portsmouth, England
My first festival, Lalopalooza 1995 featured the Beastie Boys.
I saw them at least five times and they are by far the best live act I have ever seen.
The way they controlled the tempo - bouncing between hard-core punk riffs, mellow jazz beats, and flowing hip-hop was great and they played their own instruments as well.
They were amazing - "Too sweet to be sour, too nice to be mean." RIP MCA.
Your comments
Feel like I've lost a friend. I hugged him once onstage at the London Marquee 15 March 1992. Lots of people were stage diving and hugging the band. I got up there and hugged MCA. He gave me the warmest hug back. Loved that man. Simon Rolfe, Southampton, England
I met him for a couple of minutes at an Irish gig in 1994 - we were trying to ring our bus driver at a pay phone and who was standing beside the pay phones only Mike D, Ad Rock and MCA - they signed our tickets and we had a brief chat with them all. Niall Byrne, Arklow, Ireland
I got into the Beastie Boys music in 2004 and became obsessed with them. I was lucky enough to get a ticket to see them at Wembley Arena, a concert I will never forget. The Beastie Boys are and remain one of the greatest bands ever. Jon Pearman, Stansted, England
Many moons ago I worked as a chef at Butlins in Skegness about the time the Beastie Boys released Licensed to Ill, me and a few pals became the Butlins Beastie Boys and carried a ghetto blaster with us on our days off blasting the boys out full tilt! Robbo, London, England